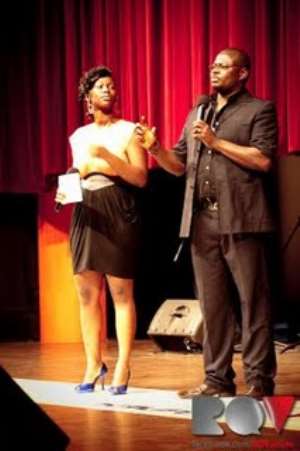 It appears that not many people were impressed with Obour's choice of MC for his highly publicized and quite successful 'Obour and Friends Resurrection Concert'. Some people were of the opinion that Ama K couldn't steer the event well as she couldn't sustain the attention of the audience most of time.
On TV3 Spotlight, the analyst on the entertainment review segment weren't in the least impressed with her skills, they felt that her co-MC, Papa Sly did a better job. I rather thought Papa Sly was full of pointless lewd jokes which he has used over and over again.
Personally I felt that Ama K had the right energy for the show but couldn't find a way to excite the minds of the audience. This was perhaps due to change in demographics, since Ama K usually deals with a different kind of crowd back in the UK, where she has done most of her practice. This was somewhat confirmed to me in my interactions with the famed TV hostess after the show at the National Theatre. She asked me about how I saw her performance. I told her she had the energy for the show but I felt a certain disconnect with the crowd. She said she was not sure of her audience and so decided to just play it safe.
I hope she warms up soon to the Ghanaian audience so we can feel her warm personality and skills. I felt she toned down her accent too much on night and should have stuck to her elements and brought the London massive into the house. Tough love, Ama!!!
By Ameyaw Debrah(Columnist,Ghanacelebrities.com)
Visit Ameyaw Debrah's Blog: www.ameyawdebrah.com