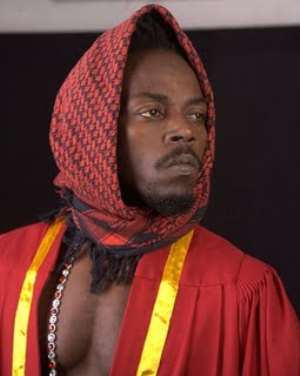 The ever-controversial hiplife superstar, Kwaw Kesse has sparked his engine of madness yet again. This time, he has taken on telecommunication companies such as Glo and MTN on the various endorsements that these companies have handed out to some musicians over the year.
Although, Kwaw Kesse remains one of the biggest acts on the hiplife scene, most of these endorsement deals have passed him by perhaps due to his unpredictable and uncontrolled character. Most brands may not find him as an ideal image for their campaigns. The self professed madman is currently facing court charges for allegedly defrauding an ex-girlfriend of some 4,000 pounds sterling.
According to Kwaw Kesse, he is not bothered by the fact that none of the telecom companies have shown interest in using him for their brand. He described these endorsements as cheap and that he wouldn't cheapen himself by signing an endorsement deal that is not worth more than the car he drives. He made this known on TV3's entertainment review show, Spotlight.
Kwaw also presented a dog to the host, Mutala Muntari as gift to mark the second anniversary of the show on TV. He commented that if Mutala could keep the show running for two years, then he would take care of the dog for much longer.
Source: Ameyawdebrah.com