We Will Establish A Film Institute – Iyan Tama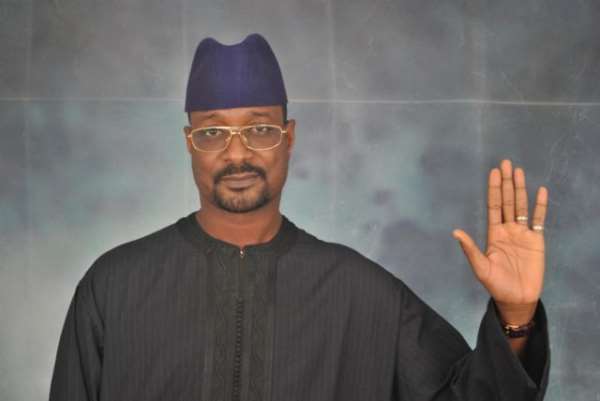 Nigeria's film industry, Kannywood, celebrates its 20th anniversary this week. LAWAL SABO IBRAHIM had a chat with one of the key actors in the industry, Hamisu Lamido Iyan-Tama, in Abuja. He contends that as Nigerians, they are waiting for their share of the Federal Government grant to the entertainment industry; especially as they remain law-abiding and are also contributing to the development of the nation by providing job opportunities.
Recently, President Jonathan announced a grant of $200 million to the entertainment industry. He mentioned Nollywood and music producers. How would you, in Kannywood, access part of this grant?
As far as I am concerned, Kannywood film producers are part of that grant. We are just waiting to see the terms and conditions to be set by both the Federal Ministry of Finance and the Central Bank. Kannywood is part of Nigeria. Funds coming to the entertainment industry should be shared equally with us, because we have been law-abiding; paying taxes and levies, even by registering our films with the National Films and Videos Censorship Board and the National Copyright Commission; so, there is no way President Jonathan will exclude us from any grant to this industry.
Kannywood is currently celebrating its 20th year anniversary. As a major player in the industry, how has the journey been?
I will start by saying that Kannywood in general has achieved a lot. My reasons are that Kannywood is already all over the internet, and we have between six and seven satellite channels showing our movies. Though our achievements are modest, we are still making efforts to improve on the areas we are lacking, like on the technical aspect, relevant equipment to shoot our movies and so on. Those involved in the production of these movies, from producers to directors and actors, started as novices who did not know how to go about it; but they have over the years learnt a lot through interactions and organised courses. So, Kannywood has reached greater heights as partakers in it are now much more knowledgeable in what they do. For instance, as I am now, I can adequately lecture people on the rudiments of film production, which I could not do at the time we started. We are making arrangements to organise workshops to train our members who do not know as much as we do; it will be a sort of train-the-trainer workshop.
How have the brickbats between the Kano State Government and artistes affected Hausa film production, the state being the host of Kannywood?
If any government tries to involve itself in the production of any art, it has to consider some things. First, is the fact that film production is for practitioners, which is an independent business. So the only thing government can do is to regulate its production. This should be the pre-occupation of censors boards, from the national to state levels. The purpose of introducing a censorship board in Kano was to regulate film production. Anyone who produces a film will take it there for them to see; if it is in order they will issue a certificate of worthiness, and if there is anything against the law they will advise the producer to remove it. But it is not their duty to decide for anyone on where or how to go about producing their films. Government ought to encourage the practitioners but not to discourage them; and as far as I am concerned, the Kano State Government only discouraged film producers; and nobody benefited from it. From the word go, if the Kano State Government wanted to be part of the film industry, it should have initiated the full sponsorship of all films in the industry; this would have given them the leverage to determine the types of movies they wanted to be produced. But, in a situation whereby someone got his money, and wanted to produce a movie, then you now try to impose your will on that person, it will not work. But I believe there will come a day when film producers will have a government that will assist them. Even now, if the government wants it, it can sponsor all films, then sell them out through premiering, launching, and so on. They can also borrow producers a million naira, two or even five each, based on some pre-agreed terms. But the type of treatment producers were receiving made most of them to relocate from the state, including myself; though now that our case is over, I am going back to continue with my business.
Your company has just celebrated its 13th anniversary; how has the journey been?
Iyan-Tama Multimedia Company celebrated its 13th year anniversary on November 25th to show our appreciation to those who helped in the development of the Hausa film industry, especially media owners and practitioners. That was the purpose; that was the aim of the celebration. Our company was established to undertake a business in video/audio production, consultancy services and music composing. At that time there was no music studio in Kano nor was there any private studio composing music in Northern Nigeria. We came up with various things that helped in the development of Kannywood entertainment and movie industry.
What I mean is how has it been so far; rosy?
Well, for me it has been successful. Our company has done a lot, especially in providing job opportunities to several youths. Artistes, actors, musicians and others, have learnt a lot from us. Many of them now own their film production companies and music studios. Also, if we look at the movies we have produced, I feel proud in educating, enlightening and creating awareness among our people on several issues. We have been receiving commendations from several quarters on the quality of our films, which is something to be proud of not only by our company, but also by all those involved in Kannywood.
There was this court case between you and the Kano State Censorship Board. Is it over now?
The case I filed at the Kaduna High Court against Kano State Government was over two months ago. My grouse was on Abubakar Rabo's (DG, Kano Censors Board ) claim over a private television station in Kaduna that my company was not registered with the Corporate Affairs Commission, (CAC). The case was over through a pre-trial conference between our lawyers and those of the Kano State Government, who agreed I am operating legally. Secondly, Rabo made the claim without knowing that I was registered. Because of the terms we have adopted to terminate my case in Kaduna, the Kano State Government agreed to terminate their case against me in Kano. So, that was how we resolved it, thereafter we took the papers to the High Court in Kaduna, where the judge ratified them. It was just a-give-and take situation.
What is the way forward for the industry?
I would only want to talk more on the 20th anniversary of Kannywood. When we at Iyan-Tama Multimedia celebrated our 13th anniversary, we held it with that of the second decade of the Kannywood last November 25. The success we have seen in these years was appreciable, even though the last three were trying ones when the Kano Censorship Board began harassing film producers by locking our offices and other things. But we remain grateful to the media for exposing us more by discussing the ways we produce, the contributions we are giving, and so on, without asking for a kobo from us. See what both the LEADERSHIP WEEKEND and LEADERSHIP HAUSA are doing for us weekly. The only thing we can do to them was to say thank you by awarding plaques and trophies as we did during our celebrations.
We also appreciate the contributions of broadcast stations and our foreign donors, especially the French embassy, that trained some of our members on the techniques of film making like directing, acting, producing, and so on. This is what our governments should have been doing, but they have not. Other agencies did similar things, like the American Embassy that sponsored some films on peaceful coexistence and religious tolerance in Nigeria. NGOs also sponsored films on HIV/AIDS, and the rest of them. So, that celebration was meant to thank all these and many more that contributed to the development of Kannywood over the years. Our target is to establish a film institute in Kano next year, which will be second to the only existing one owned by the Federal Government, to afford our members the opportunity of not only knowing their jobs well, but also obtaining regular qualifications on it.