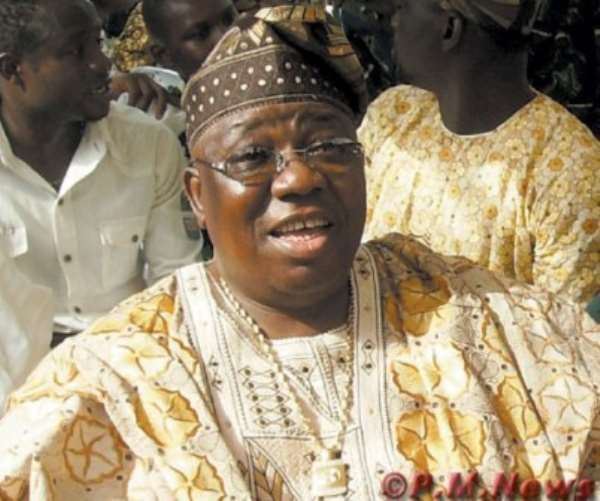 Death, naturally, would always visit a man, whether or not he has realized all his dreams in life. So, it was with the Fuji music Czar, Sikiru Ayinde Ololade Adeyimika Balogun Salami (MFR), otherwise known as Barrister.
His death in a London hospital on Thursday, December 16, after a protracted battle with a heart-related problem, came when he had already resolved to rebuild the family house in Ibadan, the Oyo State capital.
Apart from this, the Fuji music maestro passed on when he had already made up his mind to finally relocate to his home town, Ibadan, Oyo State.
Family sources in Ibadan disclosed that the hugely talented singer had wanted to rebuild his family house located at N1/486, Ayeye Area, Ibadan, as far back as 1984.
News Star gathered that his decision to rebuild the house was necessitated by the negative comments that the state of the house had generated from his friends and colleagues who accompanied him to the house during the naming of the baby of one of his close uncles.
In a chat with News Star, a family source, who spoke under anonymity, said, "The musician was not happy with the state of the house when he performed during the naming of his uncle's child. He then directed a member of the family to give him the details of the amount that would be needed to rebuild the house. Unfortunately, that was the last we heard about it. But about one and half years ago, he summoned the family and told them that he would personally handle the rehabilitation of the family house. Unfortunately, the illness developed and eventually claimed his life. Alhaji Agba was somebody who never toyed with his family."
The family house at Ayeye is over 50 years old and it is a modest bungalow. It has two sitting rooms and several bedrooms linked together via a mini courtyard. But the building is almost an eye sore today!
It was also learnt that the Fuji Garbage crooner had put up another modern building at Felele Area in Ibadan where he actually wanted to live in, when he might have fully recovered from the ailment.
His death was, however, received with mixed feelings in Ibadan. While some people were happy that he was able to bring fame to the city through his musical exploits, some people were sad that it would take some time for Ibadan to produce another music legend.
The Oyo State Governor, Adebayo Alao-Akala, also spoke glowingly about the late music idol, describing him as "a musician who always sang meaningful songs that assisted in the development of the society."
The Governor, who spoke through Prince Dotun Oyelade, his Special Assistant on Public Communication, commiserated with the people of Nigeria, particularly his kits and kins in Ibadan.
According to him, 'Allah giveth,Allah taketh.''
Meanwhile, radio stations in Ibadan have since been devoting substantial part of their airtime to his music.