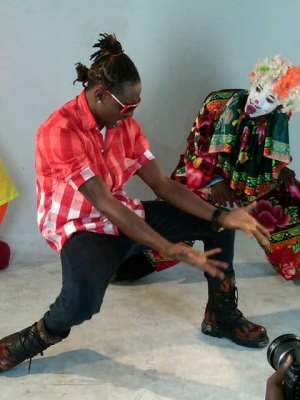 Put aside exaggeration is not news any more that Nigeria music industry is becoming a force to reckon with in Africa. In the just concluded channel o music awards naija artistes won virtually all the awards from different categories which invariably implies that good STUFFS are coming out of us to the world. This credit can't go to the artistes alone without celebrating and giving credits to the producers behind the success. i.e. it should be noted that one selection of the top ten producers is based on their achievement in the music industry and the impact they have made on various artistes they have worked with and the achievement of the artistes. Here are the top ten hip-hop music producers in Nigeria as at today.
1. OJB JAZEEREL: Jigga as is fondly called is one of the dudes that revolutionalize the Nigeria music industry and helps put Nigeria name on the world map in entertainment by producing 2 Face's debut album FAZE 2 FAZE that went platinum. The album has the track African Queen which won 2FACE best African act in the MTV Europe Awards in 2005, making 2 FACE the First African to win such a huge award. The success of the album was so huge that the song African Queen was used as a Hollywood movie sound track title "Phat girlz". All this great achievement can't be ignore just like that, and this made the brodaman to grab the number one position.
2. DON JAZZY: This is a producer that any song he produced becomes gold. He has justify this over the years through great artistes like dbanj, wande, Ikechukwu, dr sid e.t.c. Is currently the best producer of the year hip-hop world awards 2010.
3. COBHAMS ASUQUO: Though this guy is visually impaired, but he proved that the challenge is not greater than him, instead he use it as a driven force to unleash his great potentials. He justified his production skill on Asa debut album that went platinum.
4. ID CABASSA: This is a man that was bounced at the 2008 edition of hip-hop awards and the following year, he won best producer of the year in the same awards. He is the brain behind the success of gongo aso crooner 9ice and through the help of his production dexterity 9ice has being able to win international awards like "MAMA, MOBO, AWARDS" and also perform at the Nelson Mandela birthday party held in London.
5. TY MIX: This guy came into limelight when he produced Sasha Smatched hit Adara and ever since then, he has been a sought after producer. He has further more justify is dexterity has a producer through some of this artistes Naeto c, Darey art Alade e.t.c
6. J MARTIN: He came into limelight after co-producing Psquare game over album that went platinum. Ever since then, his been a force to reckon with in the naija music industry. The infusion of highlife into every of his production has made him unique and standout among his peers.
7. DOKTA FRABZ: Is a cool headed producer that does great things. Is gradually drawing attention to himself through his production and have been privileged to work with notable artistes like Naeto c, Banky w, Dagrin, Omawunmi e.t.c.
8. K-SOLO: He started is career as a sound engineer before venturing into production fully. He has shown his production dexterity on artistes like Timaya, Clever jay, Keffe, Ajassa e.t.c.
9. TERRY G: Love him or hate him, that can stop him from soaring like a bird in the sky. Mr. Gingah has he proudly call himself is the king of dancehall beat and he has been able to proved this on various artistes he has worked with i.e. Ay. Com, Jaywon, Drama boulevard, Side one e.t.c.
Advertisement
10. J-SLEEK: J-sleek sleek as 2baba fondly call him is drawing more and more attention to himself in the industry. When it seems all hope was lost for 2FACE Idibia after the release of unstoppable album, which was not a success, J-Sleek produced implication and only me which turns out to be a monster hit and gave 2 FACE is number one position back in the industry. The impact of implication and only me was so massive to the extent that when the international version of unstoppable album came out, it was sold for a thousand naira. First to happen in the history of Nigeria music industry
2. DON JAZZY: .jpg
6. J MARTIN:.jpg
8. K-SOLO:.jpg
10. J-SLEEK: .jpg
7. DOKTA FRABZ:.jpg
3. COBHAMS ASUQUO:.jpg
4. ID CABASSA:.jpg
1. OJB JAZEEREL: .jpg