OVER 90% OF NOLLYWOOD ACTRESSES SLEEP WITH PRODUCERS,MARKETERS-ACTRESS ALABA OLATUNDE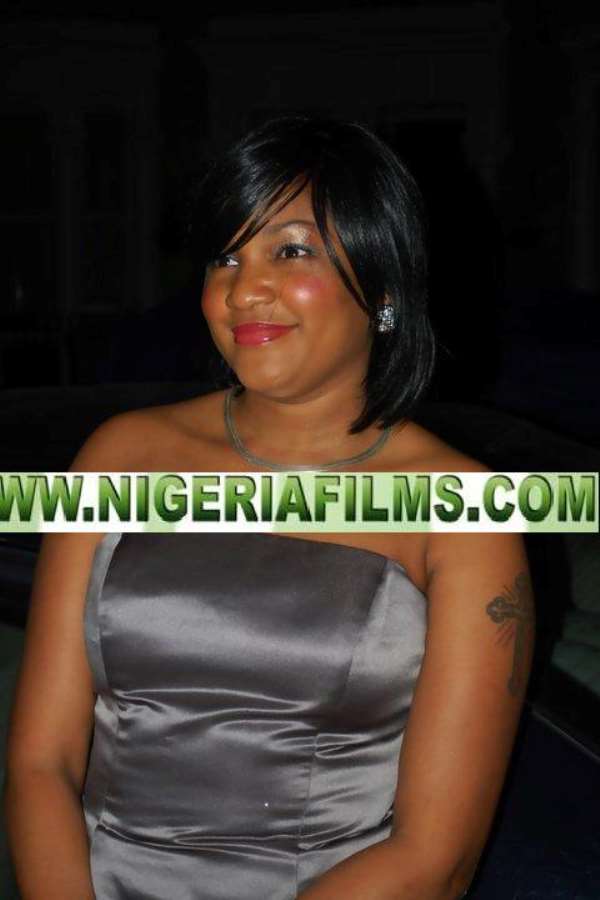 colleague once stabbed me in the buttocks for dating her boyfriend
Alaba Olatunde-Oyasodun is a London-based Yoruba actress and producer. The light-complexioned movie star, who recently produced a movie, Ipinya Obi, spoke with BAYO ADEOYE on her experience before she relocated abroad, her marriage and other interesting issues
Why did you relocate abroad?
When I was in Nigeria, things were not so easy. I was just struggling. At some point, I got tired of everything. So, when I had the opportunity to travel abroad, I grabbed it.
But I thought you were doing very well as an actress then.
Yes, I was, but I still found things difficult. You know, it was not easy coping with the challenges in the industry. I mean it was not easy getting roles. I was an up and coming actress, and producers and some of our seniors were not doing enough to encourage us at all. They didn't like to see our faces at locations at all. We faced a lot of harassment before getting even minor roles.
What kind of harassment are you talking about?
You know what I mean now!
Do you mean sexual harassment?
Yes, I was sexually harassed several times; I was abused many times so much so that I even thought I was in the wrong profession. But I was determined not to quit.
Oh! I don't want to talk about this anymore. Even those I considered my mentors or guardians in the industry even harassed me. I remember a particular actor cum producer who invited me to a location in Osogbo, Osun State. I took him like a brother. I got a script for a supporting lead. But unfortunately, a night to the shoot, he invited me to his hotel room where he told me point blank that he would sleep with me before the shoot. I was so shocked and I couldn't believe my ears. I realized later that he gave the same role to about three other girls whom he wanted to sleep with. Because I refused to sleep with him, I ended up not playing that role. Apart from that, he warned me against coming to any of his locations, except I agreed to sleep with him.
Would you mind telling me his name?
You should know I won't tell you. I won't even tell you off record because I don't trust journalists. But the man later regretted his actions and apologized to me. So, now, we are good friends.
Apart from sexual harassment, what other challenges did you face?
Oh! I faced a lot of challenges. As I said earlier, the situation in the nation's movie industry is just like a Yoruba proverb that says, "A big cock will always prevent the small one from crowing." In other word, older actors never allow the younger ones from growing. It is only the almighty God that can lift us.
Are you saying you never at any time succumbed to sexual harassment, even to ensure your rise in the industry?
No, I never did. Maybe that was why I didn't make it then. Honestly, this is why I got tired of the job and left for England. Anyway, maybe if I didn't travel, I would have yielded. But I always ignored any actor or producer that asked me out. I would rather leave your location, if you asked me to go to bed with you.
You know, if I had done that, I would have become a star back home. But then, that would have been after sleeping with almost all the actors, producers and movie marketers. Can you imagine that? What do you think would have remained of me for my husband to enjoy after marriage?
So, you mean all the so-called star actresses sleep their ways to the top?
I didn't say that o! Some of them are just lucky. Not all of them were sexually abused before they became stars. But frankly, more than 90 per cent of them would have slept with producers or marketers before getting to where they are today. Sexual harassment is very common in the industry and it takes only the grace of God for you to survive without it. For those of us who are too naïve or stubborn not to do this, we sacrificed our rise to stardom.
But what stopped you from sleeping with one or two producers to hasten your rise in the industry. Did you have anything to lose?
Yes, I had a lot to lose. Let me tell you, if I slept with one or two producers, I would probably end up sleeping with more. But this would not have even guaranteed my rise to stardom. I believe in destiny. If you are not meant to be a star, you will never be, even if you slept with all the men in the industry. I know one of my mates who have slept with almost everybody in the industry. She was popular for some time, but
where is she today?
So, are you saying that you have never dated any producer or actor?
No, I haven't.
Is it that you didn't find them attractive or what?
It is not so, but I believe that it will not help my career. If I date anyone, people will read different meanings to it, thinking I am dating him for stardom. I almost dated one, but I got my fingers burnt because his girlfriend caught us and dealt with me seriously; I still have the marks on me.
That's interesting. Would you like to tell me more about this?
Yes, but I won't mention her name. It was the popular actor and movie director who asked me out and we got very close. But before we could get any further, one of his girlfriends, a light-complexioned popular actress, came to meet me at a movie location in Abeokuta. On that day, I just had my bath and was just coming out of the bathroom; in fact, I was just tying my towel. This lady was so furious and started shouting that I should leave her boyfriend alone! But before I could say anything, she had brought out a syringe from her back and stabbed me several times in the buttock. I was quickly rushed to a nearby hospital. But I thank God I survived it.
Did you report this to the police?
No, it was resolved by the elders in the industry. She was asked to apologize and she did. But we are no more friends. Her so-called boyfriend never reckoned with her afterwards. She thought I was the one preventing her from having a swell time with the guy, but she didn't know it was another actress. The lady is married now.
Did you date any other person after the incident?
No, I never did till I left for England.
But you were reported to be one of the few actresses who enjoyed dating producers.
Tell those who told you that to name some of these producers that I dated. If I had done that, I wouldn't be appearing in just minor roles; rather, I would have been a big star today. Those rumour-mongers are even the ones sleeping around for roles.
When exactly did you join acting?
I joined the acting industry in 2001 through aunty, Sola Sobowale. I just liked her and went to meet her at LTV 8, Ikeja, Lagos. I told her I liked the way she acted and that I would like to be a popular actress like her. So, she developed an interest in me and she started mentoring me. Later, I started following the late Yomi Ogunmola who was like a brother to me. He taught me some rudiments of acting and I also appeared in some of the movies he directed.
Can you mention some of the movies you have featured in?
I have appeared in many movies, but I played minor roles. I was in Gongo So by Toyosi Adesanya, Ko le wole and so many that I can't remember their titles now.
Did you produce any movie before you travelled abroad?
No, Ipinya Obi is my first movie. It was shot in London. I am working on another one now.
You got married in London, but is your husband an actor?
No, he's businessman, but he loves watching movies. He sponsored my movie and he is very supportive.
I understand he facilitated your relocation abroad.
No, he wasn't the one. The guy that took me to London abandoned me for another girl and they fled to the US. When this happened, I nearly died. But thank God, I met some friends who assisted me, morally and financially before I met my husband, Kunle Oyasodun, who is a God-sent angel to me. Our marriage is blessed with a handsome boy, Faith.