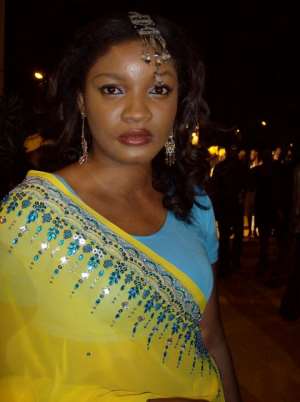 OMOTOLA JALADE
Last Saturday (17th March, 2007), the popular MUSON Centre, Lagos became a Mecca of sort for who is who in the Nigerian entertainment industry. The celebrities, artistes, music loving Nigerians and non-Nigerians alike gathered at the event centre to witness the second edition of the Hip-Hop World Magazine Awards. The occasion apart from bringing together those who have made the nation proud through their musical efforts also served as an avenue to renew contacts, make friends and be rewarded for good efforts in the past year. nollywoodgists.com had brief chat spoke with the organiser of the awards and some artistes.
Excerpts:
In a brief but exclusive chat with nollywoodgists.com Ayo Animashaun, the man who masterminded the idea of a musical award for Nigerian artistes said, "God has been very faithful to us.We are still working hard though we are not yet there.
When asked what is the next level for hip hop awards, the man who for many years was regarded as Nigeria's youngest publisher said, "We are going to do better than this when we get a bigger and better venue for the future Hip-Hop World Awards."
Is the hip hop awards going to be a reference point in the Nigerian music industry?
It is already a reference point in the Nigerian music industry.We pray it will be recognized and grow bigger and better.
Righteousman
This is a big surprise for me as a reggae artiste. I am delighted to be here.
Does this portend anything positive for the Nigerian music industry?
It shows there is hope for the common musician in Nigeria.It is a good beginning.
Ruggedman
I was not part of the maiden edition that was held in year 2006.But I am happy to be here.
What about your latest album?
It is entitled 'Ruggedy Baba'. It is doing wonderfully well in the music market. My marketer, Obaino is excited about this.
What about your new car?
Just wait and see!
Omotola Jalade-Ekeinde (Omosexy)
I am very glad with what Ayo Animashaun is doing. I have never seen a yellow carpet before. This is lovely, beautiful and glamorous. I have always known this young man (Ayo) to have guts. I know he would have had it rough considering what is obtainable here in Nigeria. And this is a lesson to all of us to keep dreaming; living up to such dreams and be strong.
What should your fans expect from you?
Nothing but the best. I am a die hard person. I may not get it right the first time or second time but I have a fighting spirit.
KONGA: (Lawal Olalekan Olumo):
The Nigerian Music industry great and it is growing by the day
What about your album?
It will be released soon. It is entitled 'Konga H2O (Konga Water)
Is it true that your controversial single 'Konga' was banned?
It is a lie and all rumours .unfortunately the rumour made me devastated but my single is doing well.
CATEGORIES WINNERS
Best Music Video----- Mode Nine (Cry)
Album of the Year----- Weird MC (After Da Storm)
Best Rap Single------------- Ruggedman (Ruggedy Baba)
Best Vocal Performance (Male)---- Obiwon (Onyiye)
Hip-Hop World Revelation --------- Freestyle
Jaiye Aboderin Next Rated--------- C-Mion
Artiste of the Year-------- P-Square
Best Collabo -------------- Jazzman & Storm All Stars
Best Rap Album---------- Bouqui
Outstanding African Act-- VIP
Song of the Year---------- D'Banj (Why Me)
Best R&B Album----------- Paul Play (Hitsville)
Best Raggea Dance Hall-- Baba Dee (Versatile)
Best Special Effects- Soul E (Soul E Baba)
Hip Hop Hall of Fame - Ben Mauray Bruce & Edi.L
BY TAIWO OBATUSIN ( www.nollywoodgists.com)