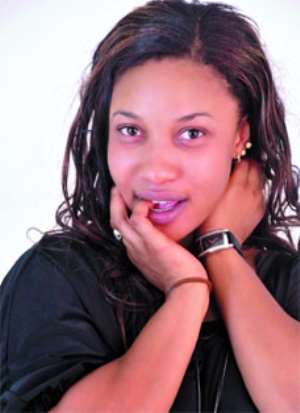 Tonto Dike
Tonto Dike who had a burning passion for acting while in the University today this screen goddess has become a household name as the hottest face in Nollywood. The 24-year-old actress who hails from Romuogota, Ikwere Local Government Area of Rivers State was born 1985. A graduate of Petrol-chemical Engineering University of Science and Technology Rivers State she is very proud of her age nothing to be ashamed of about her age, she is young and successful as well aiming to cross over to Hollywood in her acting career because acting is now part of her though as an engineer she hopes to venture into the oil sector in future.
Recently Saturday Sun engaged her in an interview. She spoke about her acting career, how Rita Dominic inspired her into the industry, love for Ini Edo, Jim Ike and Nonso Diobi especially her motherly love for Mama Gee, how she feels being the hottest face of Nollywood and making wave at 24, challenges, embarrassment, rumour about her romance with Director Tchidi Chikera, secret of her success, young look and her wish for her late mum to see what her little girl has become.
Growing up
Her growing up was very wonderful. She had everything she wanted as a child because her father strived hard to give her comfort in life. "I don't think I lack anything much because I had the full love of a father though I lost my mother at a very tender age of 3, so my father got married again after a long while. So I wouldn't really say I lack motherly love because my stepmother gave me her love. So my childhood was actually perfect and I thank God for all His infinite mercies'.
Acting career
Her acting career started in 2005 after she left the house of the Next Movie Star reality TV show where she emerged as the first runner up. They were actually the pioneers of the show. But in Nollywood, her acting career started miraculously as she just found herself in the acting scene. The first movie she featured in was produced by a friend of her's, Ada Slim Production. She gave her the opportunity in the acting world. "It was a very great experience for me then acting along side Nkiru Silvernus, Desmond Elliot, Uncle Lari Cole Smart, Uncle Pete Edochie and other stars in Nollywood. It was fun and as well motivation in my acting career.
Inspiration
She has always been a lover of entertainment but due to the nature of her course in the University she was very strict with her education because she didn't want anything that would distract her attention from school. "Even in school I hardly find time to attend shows or clubbing. After watching a movie that featured Rita Dominic, which I really admired the way she interpreted the role perfectly, I was inspired immediately. The movie is entitled Orange Groove and I told myself that I could actually act same way because she was so amazing in the movie. In fact I adored her style of dressing, the way she walked especially her acting style. So when The Next Movies Star approached me for an audition I gave my consent because I had already fallen in love with acting after watching that movie and was aiming to become an actress.
Acting instead of Engineering
" I didn't choose acting over engineering because I still had love for the course I read in school and I would still practice my profession may be in the nearest future. If I had just wanted to act and neglect engineering I would have dropped out of school which was the reason I completed my education because I know it would be useful in future. if I don't work in an oil company I might as well own a company of my own depending on my financial blessings from God. But entertainment has always been in my heart so I would say its part of me".
Stardom
I think the movie that brought me to limelight is Holy Cross where I played Nonso Diobi's girl friend. It was a contemporary cultism movie in a University setting and it was really nice. After it was released everyone was admiring me as an actress even on the streets. I felt really glad because my dream was fulfilled.
Life as one of the hottest face of Nollywood
As you grow in the industry your acting style grows as well if you are a good actress. She achieved this height in Nollywood due to hard work and diligence, which gives her joy. "I could actually play 2 to 3 relevant roles in a movie so I think it comes with the growth in the industry and I feel fulfilled. I feel happy but I'm not contented because I'm a greedy person when it comes to achieving goals.
Why a greedy person?
'Yes! Everybody is a greedy person because it is human nature. You get to one level and you want to go higher. So it's good and I thank God for the level I have ascertained in Nollywood. I wake up every morning praying to God that I still want to be more than what I'm today. I believe God is taking me to a greater level in no distant time".
Challenges
Though she had a lot of challenges the major challenge she had is bad press scandals. For her the definition of scandal is relating to something bad you have done but when you have not committed such an atrocity then it's a rumour".
Rumour of romance with Tchidi Chikere
She said it is all a rumour and its very stupid of the mongers because Chidi is happily married to his beautiful wife. 'I'm his artiste and this has already made me his friend. Whether anybody likes it or not I would remain his friend because he is my Director.
To her, the industry is not all about dating, so she only has a cordial working relationship with him. "There is no amount of allegations or rumour that would change that fact. I have heard that for sometimes now and I laugh over it because Chikere is too responsible to ask me out as his girlfriend.
Reality in sex for role practice
'I don't know anything about that really. For the fact that I'm an actress does not mean I should know everything happening in the industry. It hasn't happen to me so I would say that it not real. I have never being harassed by anyone in the industry.
Most challenging role
Though she has played challenging roles but she has not seen any role that she would refer to as most challenging because she featured in some wonderful movies last year, which are yet to be released into the market. "I'm still waiting for the movies that I would say oh this movie really stressed the hell out of me".
Role model in the industry
'Well I would not say I have a role model but I have people I admire so much in the industry like Rita Dominic and Ini Edo who is also a source of inspiration to me. She is a very good friend of mine and she is wonderful. I also appreciate Nonso Diobi, Jim Iyke, so I can't really say I have a role model but people I draw inspiration from".
Date with a colleague
She has not dated any colleague. "We are just friends and I appreciate them as brothers".
Plans of releasing an album
"No! I don't have a good voice and I can't sing, but people actually commend that voice in one of Mama Gee album video and they love the voice and the song, which was an actualization for Mama Gee.
Relationship with Mama Gee
She is her mother, though not her biological mother but her big mother in the industry. Tonto describes her as a wonderful person.
Secret of success
She said that God is the only secret behind her success and will forever give thanks to Him.
How she relaxes
She loves reading novels. She also loves swimming at her leisure time, listening to good music and watching movies.
Closest friend and why
Her closest friend is Halima Abubakar because according to Tonto, they understand each other a lot. 'We don't really need to say anything before we understand what we intend saying. I think we are just perfect as friends and I love her so much".
Turning point in life
"The day I gave my life to God in 2000 everything became new in my life, since then His love has always and will continue to endure in my life because it gives me so much joy seen Pastors and their wives serving God. Even young men and women serve God so why I won't I.
Being a born again Christian
Yes I can boldly stand on the top of the earth and say I'm a born again Christian though I may do things that are wrong sometimes, it doesn't change the fact that I'm born again because we are all human.
Regret
It's not a regret though she wishes her mother were alive to see what her little girl has become. "I don't regret the fact that she is late because only God knows why it happened and I wouldn't question God".
Coping with stardom
"I'm a very simple person by nature quiet accommodating not the type who would love to take her shoulders high because she is a star. I'm a level headed person and it has been working for me for quite some time now and I think I appreciate my way of life because I was really scared in the beginning how I would be able to manage stardom. I love staying around people but as I grew in the Lord, He showed me the best part and I'm happy today as a person".
Embarrassing moment
She has had embarrassing moment. Sometime people walk up to her expressing their feelings on the roles she had played in movies. "Recently after acting a movie entitled Before the Rain, a lady walk up to me saying oh God you showed all your breast on that movie, oh you kiss too much in that movie. They say different things though I don't see it as an embarrassment. It is something I should note in my next movie'.
Secret of your looking good and young
"I'm very young. Even at 24 I think I'm older than my age I think I should look younger than this. I don't do extra beauty treatment to make me look beautiful. I don't wear makeup except on set. I can put my hair back and still look myself, so it a natural look".
Advances
She hardly goes out and the good thing is that most of the advances come through the phone, so it is quite easy to handle rather than seeing the person personally to tell them off. Moreover, she is hardly in Lagos, always on location.
Love life
"It's very healthy I'm in love with Jesus Christ and his love it is sufficient for me. He is my boy friend".
Any heartbreak
"A couple of times I think it a normal thing for young adults, so I have experienced it. It was indeed a terrible experience and very painful. It's a long story but the good thing from the experience is that I have learned my lessons. The heartbreak is part of my experience but I still appreciate the love of my parents as well as the greatest love from my fans.
Ideal man
"I don't like long man, I love small man. I'm not saying I like Julius Agwu. He should be well dressed God fearing. Above all he has to love me.
Any intention of marrying an actor
"If God blesses me with an actor as a husband fine, but I know it is a very challenging thing to do because we are in the same industry. How do you manage your home when both of you travel out at the same time. Any way if God brings it my way then He has to help me out in the marriage. Acting is more taxing for married women especially when you want to be in the marriage. Some of them actually break up and some are successful in their marriage with the grace of God. It is very stressful because you have to give your job attention and your husband as well. You have to run your home because the home is the woman.
Why some marriages in Nollywood break
"This is not a reason because there are some people who have actually worked it out successfully in their marriages like uncle Zack Orji and Uncle Olu Jacobs, so if anybody in the industry has a crashed marriage it is their own business. I'm not blaming it on the career because there are some who had these challenges and yet kept it strong".
How she spoils herself anytime she wants to give herself a treat
I love shopping, buying good things that I sometimes do end up wearing them because I hardly go out. The only time I wear them is when I'm relaxing at home.
Sense of dressing
Her sense of dressing is simple though it must have a name and class.
Conception about being a proud person
"I don't have any reason to be a proud person because my success is not by might but by the sufficient grace of God. So I don't have any level of pride in me.
I'm a very humble and God fearing person, quite respectful though we are human sometimes we do things that are different from who we are. I can be very bitchy but it does not mean that is my person. Though sometimes troublesome I'm a very loving person".
Tattoo in body
"I don't have tattoo all over my body as people say. You see I have tattoo in two places, my neck and leg. If you want me to go naked, I will. After all you are a woman like me so that you can justify it properly.
Conception about who she is
"I think there are some misconceptions people have about me but when you are not close to someone you wouldn't know the person 100%. Before I met my friend Alima we had our reservations about each other. She thaught I was a bitch and I thaught same, but after having close relationship we discovered we are different from our thinking. Not everybody can get to where you are to know who you really are. I'm a very misunderstood person and I don't know how to change it".
What she does aside acting
"I have a lot of things I'm planning especially my NGO, Black Heritage Help The Child Foundation, which I have being planning for a long time. I have started it with my friend Alima and it would soon be lunched though I'm also engaged in other businesses like oil.
Future prospect
She has said she would not stop at Nollywood but would want to cross over to Hollywood. 'I believe some people would say I'm mad but I will do it because it's a dream and with God I will achieve it".
Comparing Nollywood and Hollywood
She wouldn't want to compare to avoid embarrassment, but according to her, Nollywood is trying and is going to reach a greater level. "Nollywood is going places. We are growing rapidly and the trend is moving so fast".
Advice to young ones who are aspiring to come into the industry
In advising the upcoming ones she told a story that a very close friend of hers told her some years ago. "You are coming into the industry, you should know what you want. Are you coming for fame, the love of it, the passion or the money?
"First, you have to know your reasons before coming. You have to be yourself. You don't need to be like any other actresses but your true self because when you are your self you have an edge over a lot of people".
By NKECHI NWAJI