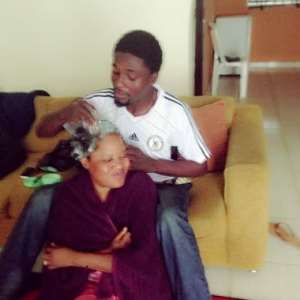 Love they say is sweet, when you have the right person, top Yoru-nollywood actress, Toyin Aimakhu-Johnson, proved this saying to be worthwhile when she flaunted photos of her and her hubby doing one of the many things that keep their togetherness strong.
Her hubby, Niyi Johnson, a cast in the Nigerian television series 'Tinsel', and Toyin took to give the world an insight into their love life and intimacy at home, sharing photos of the groom helping out his beautiful wife to condition and touch-up her hair with some relaxer (a type of lotion or cream generally used by people with tight curls or very curly hair which makes hair easier to straighten by chemically "relaxing" the natural curls).
Take a glance at one of the couple's lovely best moments together below.