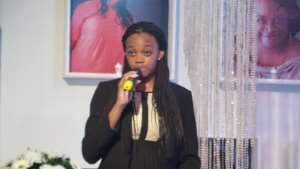 In the wake of mourning, daughter of veteran Nollywood producer, director, writer, teacher and mentor, Amaka Igwe, Ruby Igwe, has sent a heartfelt message to her mother, who passed away on Saturday, 29th April, 2014.
In her message, Ruby describes her mum as the one who was always ready to listen to whatever she has to say and would be readily available to proffer solutions.
"I am still waiting for your call back. My phone doesn't ring as often anymore. I miss you.
I miss your yelling at me many times. I miss saying good morning and good night from wherever in the world we both are.
I miss arguing with you, I miss laughing with you. I miss calling you when something amazing or horrifying happens. You would be the one I would be calling right now.
I met you nineteen years ago, and I fell in love. You were my very best friend, and there isn't anyone to tell the things I tell you, or do the things I only do with you, anymore.
I am consoled because I know that you are safe, and happy. You lived an amazing life, a brilliant, trailblazing, pioneering, unique, humble, and joyous life. You were awesome, you loved, and you were loved.
I know that I will be okay, and I will live and love and be loved. I know that I will see you again and you will say, "Nne o, Ruboyibo, Nkennayerem, the special." You will tell me everything.
I am happy because you made memories to last me until I see you again, memories I will remember and smile about, memories I will remind dad, David and Dani about, memories that will never fade.
I am trusting God that we will be fine. I know that with God, we will do great and marvelous things, even in this land of the living.
There isn't a lot for me to write or say. But I know you know that I'll be okay. So am left with no other option but to be strong with God, look unto Jesus and be the best I can be.
When I get to heaven, we'll have a lot of catching up to do.
Until then.
Ruby Igwe (the three term lawyer and barrister-to-be)
© 2014 Nollywoodgists.com
Click the link below to go to...
THE UNTOLD STORY OF HOW COMEDIENNE, PRINCESS MARRIAGE COLLAPSED
Fans Blasts Jude Okoye After Showing Off His Guns
Gov. Oshiomole Gives Plantain Chips Hawker One Million Naira
Popular Yoruba Actress/Producer, Laide Bakare Shares Passionate Kiss With Her Husband
I Use Cocoa Butter Am Not Bleaching- Yvonne Nelson Speaks Out