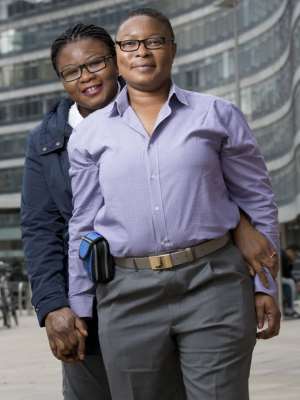 Nigerian lady, Aderonke Apata, who claimed to be a homosexual, is currently having sleepless night as she hopes to convince the United Kingdom court over her asylum case.
Apata, 47, reveals the traumatic ordeal that she was asked to bring supporting documents for her judicial review for the court to look at.
"What evidence do we have to compile apart from letters from people? I knew we had a home video of ourselves, so I thought why not just put it in? I cannot afford to go back to my county where I will be tortured, so if I have to prove it with a sexual video, then I have to do it."
With sadness and grief in her heart, Apata felt so disappointed that the situation has gone this far. "It's such a desperate and precarious situation to be in because anything could happen to those pictures, those videos."
Apata will present her petition at a meeting with the Independent Chief Inspector of Borders and Immigration, attended by asylum-seekers and activists in Manchester, adding that she does not want to go back to her country where she knows she is not secured and stands to go to jail because of the law prohibiting same sex marriage.
This latest asylum claim was also rejected, despite the fact that Apata gave testimony that her ex-girlfriend in Nigeria was killed in a vigilante attack in 2012 and the country's law now punishes homosexuality with up to 14 years' imprisonment.
Apata's story has rapidly garnered mass support, attracting more than 230,000 signatures.