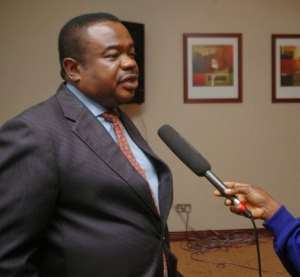 Hotels might be getting themselves involved in trouble with the Copyright Society of Nigeria (COSON) if they don't pay royalties to artistes for using their (artiste) songs in their various organisations.
According to COSON's General Manager, Mr. Chinedu Chukwuji, the hotel managers should be ready to face the full wrath of the body if these royalties are not paid. He stated that a meeting was held in respective of this issue with Hotel And Personal Services Employers' Association Of Nigeria (HOPSEA) and the leadership of other associations like Hotel Owners Forum Abuja (HOFA), which lasted for two years.
The COSON GM added that unfortunately, some hotels have continued to freely use the works of innocent creators and investors in the music industry in defiance of the law, against the rights of these creators and against global best practice.
Meanwhile, some hotels in Nigeria who are yet to comply have been given two weeks' notice by COSON lawyers to pay their music copyright royalties or face the music.
The hotels, according to COSON, include Sheraton Hotels & Towers, Ikeja; Lagos Oriental Hotel, Victoria Island; Bolingo Hotels and Towers, Abuja; Hotel Presidential, Port Harcourt; Golden Tulip, Port Harcourt; Le Meridien Ogeyi Place, Port Harcourt; Le Meridien Ibom Hotel & Golf Resort, Uyo; Imo Concorde Hotel & Casino, Owerri; Rockview Hotel, Owerri; Nike Lake Resort, Enugu, and others.
Since the industry wide agreement with Hotels, 'HOPESEA' in December 2012 resulting in negotiated music copyright rates for hotels across Nigeria. Since then, such top hotels as Eko Hotel & Suites, Lagos; Transcorp Hilton Hotel, Abuja; Sheraton Hotel & Suites, Abuja; Southern Sun Hotel, Ikoyi; Golden Tulip Hotel, FESTAC and several top hotels across the country have been in compliance, COSON also said.
Click the link below to go to...
More Pictures From Stephanie Okereke's Wedding
The Good the Bad and the Ugly at: AY's comedy concert on Easter Sunday
I Can Never Be A Single Mother--Uche Jombo**Talks About Marriage Rumour
Ghanaian Actor, Van Vicker Lands In Police Net Over Arms Possession In Nigeria
Click the link below to go to...
15 million Nigerians want to go to America – survey
Let's not deny something's wrong with this picture?
ABOUT DAYO AMUSA'S NEW LOOK