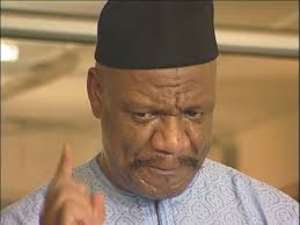 Gifted Nollywood actor, Alex Usifo Omiagbo, has been quiet for a while and one wonders what he has been up to. We do not know whether he's taking a break from Nollywood or engaged with other businesses.
The stern-looking actor, Actor was born 16th April 1953, hails from Ewohimi, Local Government, Edo State, and is happily married to a princess and blessed with children.
Born into a catholic home, he attended a catholic primary and secondary schools. His father was a staff of Kingsway stores, and he is the second of 2 boys and 2 girls. He speaks Edo, Yoruba and English, fluently. He is also a graduate of Mass Communication and Philosophy, Unilag and SS Peterson Paul major seminary, an under graduate of Ambrose Alli University.
Osifo started his first paying job as an operations assistant at Nigerian Television Authority (NTA) Benin (camera/audio manager). Then moved to selling insurance policies with Crusader Insurance in the early 1980's.
The flair for acting started in 1984, with his first Tv role in 'The Return Of The Natives', as Mr Davis, Theatre - Awero, as Pa Jimoh, Movies - Mission To Serve, as Mr President. Aside all these, his major breakthrough came when he acted in a TV Series- 'Ripples' as Talab Abbas. Osifo has starred in movies like Silent Night, Sanctuary, Captive, Innocent Tears, Fugitives, to mention a few.
The actor spends more time in either church or with his family and also enjoy music and reading. Indeed, he is truly 'A Man's Man.'