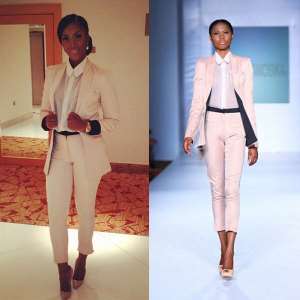 Androgyny (masculine-inspired wears), is now an evolving, large- scale fashion trend, and a style that we have continued to observe as it advances into the fashion trends for this year.

Androgyny is gotten from the Greek words (andr- meaning man) and (gyne- meaning woman), refers to the combination of both masculine and feminine characteristics. This may be in fashion, gender identity, sexual identity and lifestyle.

Most people don't fall into a single definition of 'masculine' or feminine'. Therefore, we are debunking the notion that, only 'men' wear 'menswear'.

Androgynous style, suggests a spirit of reconciliation between both sexes; it also, suggests, a full range of experience and a spectrum upon which human beings choose their places without regard to propriety or custom.
Androgynous fashion has always been a source of interests and intrigues, but as society's boundaries has changed, so too has masculine and feminine boundaries gone vague.

From ambiguous fleshly and physical attributes developing to a more relax stance on gender vague impression fashion, we look at the changing face of androgyny and how women's fashion is taking a masculine turn.

In a society where the roles everyone plays are obvious, the refusal to conform to any standard excites interest whether masculine, feminine, impudent, charming, subtle, outrageous, and the list goes on. These days, a lot people no longer worry about being socially acceptable.

From one decade to the next, the 90's feminine waif evolved to almost genderless. Physiologically she was already boyish of figure.

In the 2000's she evolved to have edgy tattoos and piercings, attitude and a sexual confidence that aligned in order with the nudity in fashion trend.

In the year 2011 and 2012, the androgynous fashion style was more like 'the poster girl' to which the normal feminine outfit was incorporated with the schoolboy's cap and masculine coats. Others include, the oversized blazers paired with full skirts and masculine sporty accents or boyish accessories.

In the year 2013, the trend moved to the mixed masculine suiting (suit), with soft details and high- heeled shoes. This trend was generally seen as a shift from gender neutrality to a step in the direction of sexual masculinity for women, which involves new technique to wear boyish looks in feminized way. Such as, transforming scruffy checkered skirts and men's pyjama cuts, into something highly comfortable and androgynously cool.
It also entails a mix of tough, sexy details like cut-aways and the use of leather, crossed with boyish oversized cuts, and tailored shorts, gives an epitome of the boyish sporty luxe(sporty tomboy dressing) which replaced the jerseys and track pants.

Now in year 2014, it has evolved to the oversized, boyish, cool dressing, which embraces sneakers, slouchy pants, masculine tailored blazers and oversized shirts.

However, the androgynous style is all about volume, layering and an underlying attitude when it comes to wearing the masculine trend.