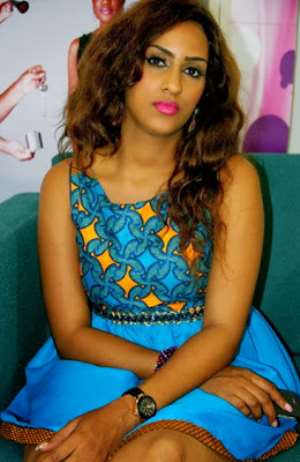 Recently, there have been speculations that Ghanaian actress Juliet Ibrahim, is experiencing some major troubles in her long time marriage to Mr. Kwadwo Safo Junior, son of Ghanaian inventor and leader of Kristo Asafo Mission, Apostle Kwadwo Sarfo.
It could also be observed that the actress has been spending more time in Nigeria than her country Ghana. Even, she was absent during her husband's birthday party organized in late February 2014 in Ghana and the husband was also absent when Juliet celebrated her birthday in Nigeria, in March 2014.
In a swift response to the speculations, Juliet Ibrahim's husband Kwadwo Safo, has denied them being apart, claiming that their marriage was still intact; just that his wife has been very busy with some engagements and her movies.
According to him, he was surprised on how people got such false information as he never discusses his private life in the public.
"I will say it again that the rumour is not true. She was not at my party because she had a lot to do in Nigeria," he explained.
Meanwhile, the union has been blessed with a son Jayden.
© 2014 Nollywoodgists.com
Click the link below to go to...
The Bitter Truth About The Igbo, By Femi Fani-Kayode
A WORD FOR THOSE THAT CALL ME AN IGBO-HATER - Femi Fani-Kayode
Deportation Saga: Governor Fashola Seal's Orji Kalu's Lagos Home
Ezekwesili Calls On Government To Arrest Fani-Kayode
''Fashola deported people who were constituting a nuisance'' - Jide Kosoko
Actress Chioma Toplis To Femi Fani-Kayode: I'M LAUGHING OUT LOUD AT YOUR STUPIDTY
Former Minister Femi Fani-Kayode Expresses 'Deep Regrets' For Mentioning Names Of Ex-Girlfriends In Controversial Article