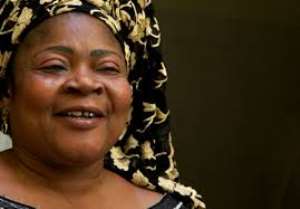 'Waka Music Queen,' Salawa Abeni was recently embarrassed by a security personnel attached to Ikeja City Mall in Lagos, popularly called Shoprite by some locals. Nollywoodgists.com captured the ugly incident as it occurred few months ago.
The former wife of Fuji Music Lord, General Kollington Ayinla, also known as 'Kebe N Kwara', had gone for shopping at the store, when an overzealous security man engaged Salawa in an argument.
While trying to push what she bought with a cart to where her car was packed, the music star of yesteryears was stopped by the man at the main entrance of the mall and asked to offload the items. Salawa questioned the reason for such, but the security man insisted that it was the policy of the mall not to allow the carts to be taken out by customers. The argument between the two lasted for some minutes.
All explanations by the musician to make the man see reasons with her fell on deaf ears. At the end of the day, Salawa was forced to pick her items to her car in bits. His son, who looks like American Rick Ross, and another dude, helped the singer in accomplishing the task.