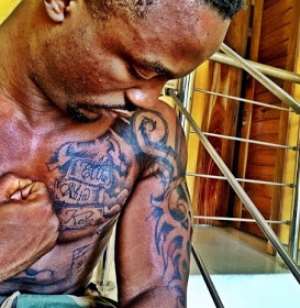 So sad when one remembers the death of a loved one, memories flash into your head like you could turn the hands of time and made things right.
Award-winning artiste and kukere crooner Iyanya is an Orphan who lost his parents about 4years ago... He also lost his brother within the space of the four years to the cold hands of death. The singer shared this pic of his new tattoo on his chest in memory of his late dad, mum and brother.
May their soul rest in peace.