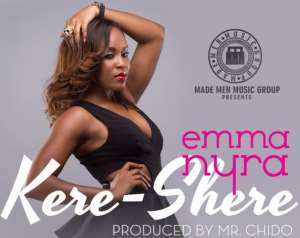 Recently I had the chance to interview one of Nigeria's rising stars Emma Nyra, the singer was very forthcoming and honest with her answers.
1. How did you come up with the name Emma Nyra?
It's a nice play on words Emma Nyra is a nickname I received in university as well as E money and Emma pounds based on my unique style.
2.Where are you based?
Emma Nyra is based in Lagos, Nigeria.
3. Musically, who inspires you?
I am inspired by the music of Sade, Mariah Carey, Beyonce, and Shakira.
4. In the current afrobeats scene who would you like to work with that you haven't worked with?
I would love to work with Wizkid and Chidinma.
5.your music has a very varied sound, it's not your typical afrobeats. Why is this?
My music is a fusion of Western culture as well as African elements. I grew up listening to Fela Kuti and King Sunny Ade mixed with Michael Jackson and Celine Dion. These artists have influenced my music in so many ways.
6.When can we expect an album from you?
Emma Nyra will release her first studio album in fall 2014 with collabs from your favourite afro beats artists in Nigeria, Ghana and South Africa.
7. From looking at your Instagram, you seem to be very stylish. Who are some of your favourite designers and why?
My style inspiration comes from my mother. She is a fashion designer and sews very well. Fashion stylists and lines that I have worked with include Imani Swank, TiannahStyling, Chyna Bee, and Zedeye.
8. Would you say that your someone who loves shopping?
Nyra loves to shop! Any time, anywhere, but I'm very cautious of brand and quality because I'm not someone who will wear clothing based on the name brand. With me, its all about the quality.
9.If you weren't doing music what do you think you'd be doing?
I have my bachelor's degree of science in Health Administration so if I wasn't singing I would definitely be working in the hospital sector.
10. What advice would you have for people trying to get into afrobeats or music in general?
My advice would be to exercise patience. Study your target audience and perfect your craft. Nothing good comes easy and when God says it's your time no man can say other wise.
11. Where do you see yourself in the next couple of years?
In the next five years the Emma Nyra brand will be much bigger internationally. Many new projects will have been completed such as international collabs, brand endorsements, and more are in store.
12. What else can we expect from Emma Nyra this year?
This year is very fresh so you can expect new material such as new singles, fresh videos, and hot collabs coming from first lady Nyra.
13. Last words to your fans reading this?
Blessup to all the fans especially the ones who are by my side through all adversity. I love you and I will continue to push myself to greater heights due to your unfailing support.
If you have any thoughts on the interview, tweet me @bisoye