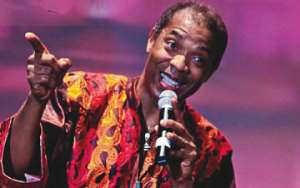 Afrobeat king Femi Anikulapo Kuti, for the fourth time, has lost the Grammy Awards. The saxophonist who failed to win in three previous nominations was again denied the prestigious trophy at a gala at The Staples Centre, Los Angeles, California, United States of America, on Sunday, January 26, 2014.
Femi Kuti's fans worldwide had prayed he wins this time around but they were disappointed when news hit town that the son of late Fela Anikulapo Kuti lost again in the prestigious World Music Album category.
As if he knew what the outcome would be, Femi Kuti in his last interview with ENCOMIUM Weekly said, "I would be shocked if I win," this is because those in the category with him are masters of the Grammy, Gipsy King, Lady Smith Black Mambazo and Ravi Shakar.
Femi Kuti didn't attend the Grammy as usual, he was in Lagos while his sister Yeni represented him at the ceremony. Though many are disappointed with this latest news, Femi Kuti still maintains the record of being nominated in the Grammy Awards for four times. No Nigerian have ever achieved this feet.
He (Femi) performed at the Afrika Shrine, Agidingbi, Ikeja, Lagos, on Sunday, January 26, 2014 night. According to his manager who spoke with ENCOMIUM Weekly, "We are used to it. Losing the Grammy for the fourth time is not the end of life.We will continue doing what we know how to do best".
The album that wins Femi his fourth Grammy nomination is titled, No Place for My Dream.
HOW FEMI RECEIVED THE NEWS
Femi Kuti had finished performing at the Afrika Shrine when the news of losing the Grammy Awards for the fourth time crept in. After his usual Sunday Jump, he (Femi) picked his family and headed to his Alagbole, Ogun State home. It was while at home that Yeni Kuti who attended the award ceremony in Los Angeles called him on phone to break the news to him and as usual, the saxophonist wouldn't want that weigh him down as he picked up his phone and called those at the Afrika Shrine about the latest development.