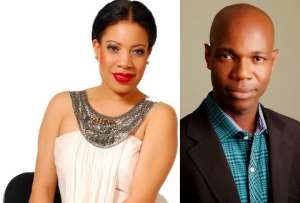 A former Editor with Monalisa Chinda's newly launched magazine, 'Monalisa', Kelvin Keshi has dragged the actress to court. Kelvin, who has been in a war with his former boss alleged Mona, as the sultry actress is fondly called, of slander.
He claimed that the screen diva defamed him in an interview she granted City People in 2013, by calling him a 'half-baked journalist'.
Kelvin, in a lawsuit tendered by his lawyers, Megafield Solicitors, frowned at Monalisa's statement in the interview and handed out a legal suit notification to the actress on behalf of their client. Read it HERE
Meanwhile, Nollywoodgists.com contacted Monalisa's publicist, who confirmed that the actress is aware of the lawsuit.
According to her publicist, "Yes, she's been served and her lawyers are dealing with it appropriately."
"The Kelvin guy is only trying to take advantage of Lisa's (Monalisa) status and soft hearted nature because he's got nothing to lose," the publicist told Nollywoodgists.com.
© 2013 Nollywoodgists.com
Click the link below to go to...
Monalisa Magazine Tells The Real Story Behind Her Ex-Editor's Kelvin Keshi Sack
Insider Reveals Can Of Worm In Monalisa Chinda, Lanre Nzeribe's Failed Romance
Monalisa Chinda Dumps Lanre Nzeribe; Lover Boy Threatens Brimstone
MONALISA, LANRE NZERIBE, EGOR & OTHER STORIES. BULL'S EYE
Actresses Monalisa Chinda with Lanre Nzeribe Spotted At The Turning Point Premier in Lagos [Pictures]
Exclusive! Actress Monalisa Chinda And Lanre Nzeribe Dare All: Step Out Hand In Hand At Uche Jumbo's Movie Premiere [A MUST READ]
Fans, Friends Frown At Monalisa Chinda's Affair With Lanre Nzeribe + Chinda's daughter Tamar Lily's 5th birthday Pictures
Monalisa Evil Ex Was Texting Her Daily - Egor Efiok
Monalisa Chinda Falls In Love Again….Secret Lover Exposed
Monalisa's 'Boyfriend', Lanre, Sues Stella For N500m **I'll Clean Your House For N500m--Stella Replies
Will 'Torn' Make Joseph Benjamin Replace Ousted Nzeribe In Monalisa Chinda's Life?