December 17, 2013
|
General News
Accra Film Premiere: Coz Ov Moni 2 (FOKN Revenge) 18+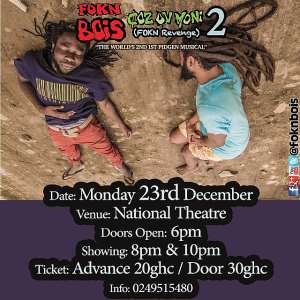 The FOKN Bois are back with the next instalment of the world's 1st Pidgen Musical that has won them die hard fans in Ghana and around the world. This time they seek revenge on the kwashay gang that wounded them, robbed them and left them for dead in part 1. The film is longer and this time around the featuring musical actors such as Yaa Pono and Sister Deborah have vocal rapping/singing parts.

The devoted fans are scrambling for the advance tickets. Some fans have changed their twitter names to show their support and quite a few are using the premiere's e-poster as their display pics / avatars on twitter, instagram, facebook, etc…The buzz is very encouraging and both screenings are expected to be packed to capacity.
Date: Monday 23rd December
Venue: National Theatre
6pm: Doors Open (Surprise Carpet)
7pm: FOKN Bois address seated audience
7.30: HOGOF Theatre Drama/Dance group perform play touching on paedophilia in Ghana
8pm: Coz Ov Moni 2 (FOKN Revenge) 1st Showing
10pm: Coz Ov Moni 2 (FOKN Revenge) 2nd Showing
11.30: FOKN Bois hang around aimlessly
Coz Ov Moni 2 (FOKN Revenge) DVDS will be available on the night.
"If you liked the first one, this one is even better!" – FOKN Bois
Duration: 63 minutes
Director: King Luu
Tickets: 20ghc Advanced / 30ghc Door
Ticket Outlets: Republic Bar, Alliance Francaise, Art Center Shop 86 & Rockstone's Office
For free delivery within Accra call 024 9515 480 (Elliot)
Useful links
Coz Ov Moni 2 (FOKN Revenge) - Official Trailer: http://youtu.be/G7RhVV1eAOw
www.Facebook.com/FOKNBois
www.Twitter.com/FOKNBois
Coz Ov Moni 1 - Full HD Movie: http://youtu.be/R_YsQK2Yo3c