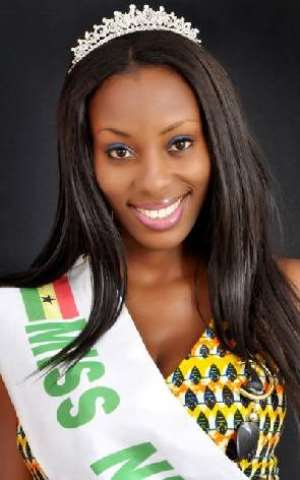 Despite the heavy downpour that almost thwarted the effort of the organisers of the beauty pageant competition in Ghana, Miss Nigeria Ghana 2013, last Sunday, the event which eventually held with glitz and glamour has produced Amadi Jennifer Enuolare, an orphan as the winner. The beautiful Nigerian based in Ghana was able to beat the other 35 contestants in a fierce competition.
The new Miss Nigeria Ghana is from Rivers State, Nigeria and studies Human Resource Management at Knutsford University College, East Legon, Accra, Ghana. She loves cooking, listening to music and making friends. She entered into the Miss Nigeria Ghana 2013 to make a difference and represented Delta state.
The first Miss Nigeria Ghana, Amaka Okosieme, according to Ghana web report, was present and did the honors of transferring the crown to the new successor who will continue to pursue the breast cancer awareness campaign in the ten regions of Ghana.
The theme for the event was 'Beauty Made in Nigeria', and indeed Nigerian young women schooling in Ghana were at their best, representing each of the 36 states of Nigeria. Their cultural display, talent display and test questions and answers were employed by the Judges to determine the best and select the right person for the Miss Nigeria Ghana 2013.
Prominent among the Judges was Nita J, Nollywood movie star, and Louisa Bua, Ghana's fast rising model. Nigeria's prominent photographer and writer Chuks Ineh was official photographer of the Miss Nigeria Ghana beauty pageant.
The new Miss Nigeria Ghana was given gifts from Omatek computers, and a wrist watch from Swiss Watch, she was also presented with a car key from the Nigeria High commissioner representative.