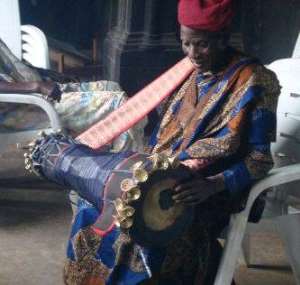 We have information that renowned Yoruba drummer, Baba. Baami Ayankele has died. The top traditionalist reportedly gave up the ghost some moments ago.
Late Ayankele was an Ifa priest, respected for the expertise and finesse he displays whenever he beats the 'bata' drum.
Many have described him as a museum of wisdom and knowledge, especially with an undiluted Yoruba culture.
© 2013 Nollywoodgists.com
Click the link below to go to...
Nothing Else Matters 'To Me Now'--Jim Iyke Talks On Deliverance From Evil Spirit.
Update!! (Photos) Jim Iyke Just Got Delivered Of Witchcraft On TB Joshua's Emmanuel TV!
I'm A Witch--Veteran Actress Confesses To TB Joshua (Pictures)
Camilla Mberekpe Denies Confessing To Witchcraft…Explains How She Was Delivered By T.B Joshua
Nollywood Actress Confesses To Witch Craft [Video]
Camilla Mberekpe's confession: Is it African magic or Holy spirit in action? [Video]