New Miss LASU Is A Beauty To Behold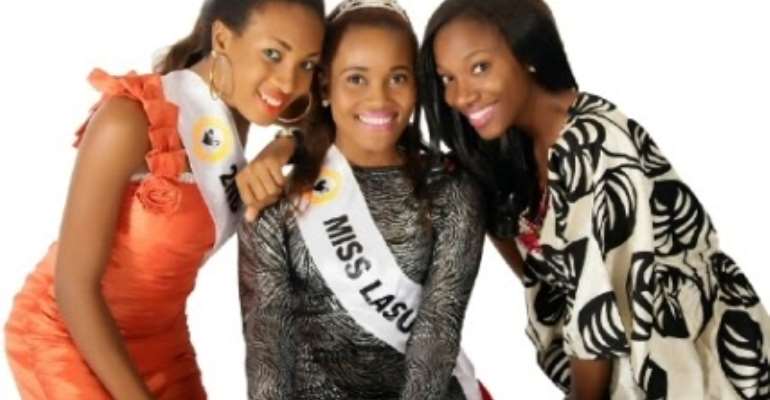 Walking tall beauty Miss Faderera Mariah Omosowoeni is the new Miss LASU as she emerged the most beautiful girl in the campus beauty pageant on 4th July 2013.
The colourful pageant was held at the New Auditorium of the Lagos State University (LASU) that was packed with excited students, performing artistes, comedians, special guests and other members of the LASU community.
The event, which was organized by MLK Events in conjunction with the Lagos State University Student Union, paraded a number of beautiful contestants from different faculties of the university. At the end of the fun packed event, delectable and elegant Faderera Mariah Omosowoeni who represented Faculty of Education was crowned the new beauty queen of the Lagos State University. She got a cash prize and a brand new golf car.
>
Nollywoodgists.com
Click the link below to go to...
Peter Okoye Finally Proposes To His Girlfriend Of 7yrs, Lola Omotayo With A Brand New 2013 Range Rover [PHOTOS]
Love In The Heart Of Nollywood Actress, Genevieve Nnaji
Nollywood's Aneke Twins Add Extra Year
Stephanie Okereke, Hubby In Europe For Vacation
Many Will Be Ashamed When They Know Truth About Stella & I--Daniel Ademinokan
Nollywood Actress, Uche Iwuji Gets Baby Boy
QUOTE OF THE DAY: What is wrong with Jonathan?--Prof. Tam David-West
Biodun Okeowo Arrests Marketer Over N1.4m Debt .jpg" /> A visibly elated Miss Omosowoeni has promised to reach out to fellow students during her one-year reign. She also promised to be a good ambassador of the school even after her reign as queen.
Specifically, Queen Faderera promised to contribute in the current effort to re-brand the image of the university with a television programme, which she titled 'LASU on Point'. She also intends to embark on a beautification of LASU by creating a recreational park with a fountain in front of the faculty of Education.
There are also plans to donate educational materials to students. The queen also hopes to, before the end of her reign, host an alumni dinner to celebrate LASU products that have contributed and are still contributing to society
© 2013 Nollywoodgists.com
Click the link below to go to...
Peter Okoye Finally Proposes To His Girlfriend Of 7yrs, Lola Omotayo With A Brand New 2013 Range Rover [PHOTOS]
Love In The Heart Of Nollywood Actress, Genevieve Nnaji
Nollywood's Aneke Twins Add Extra Year
Stephanie Okereke, Hubby In Europe For Vacation
Many Will Be Ashamed When They Know Truth About Stella & I--Daniel Ademinokan
Nollywood Actress, Uche Iwuji Gets Baby Boy
QUOTE OF THE DAY: What is wrong with Jonathan?--Prof. Tam David-West