Liz Da Silva Pregnant For 3 Men? May Require DNA To Know Child's Paternity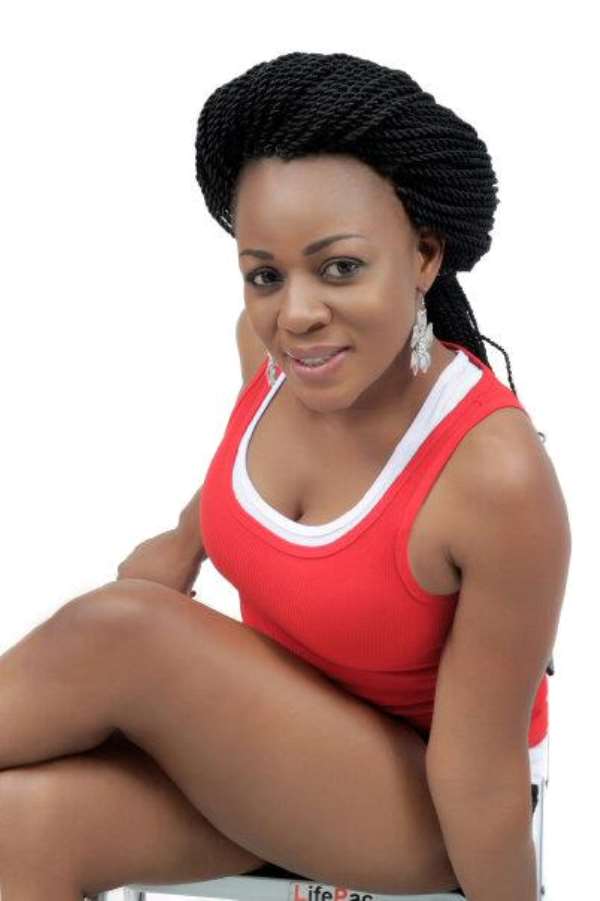 If gist reaching First Weekly Magazine is anything to by, then the short drama witnessed during the Bisi Ibidapo Obe/Dino Melaye saga might repeat itself again. But this time, it will shift to another Yoruba actress named Liz Da Silva.
Tale-bearers within the Yoruba film industry alleged that the upcoming sexy actress, Liz Da Silva, who recently held her baby shower in May in Lagos in the presence of few friends, is not sure, who is responsible for her pregnancy out of her three lovers.
According to speculations within the Yoruba movie industry circle, Lizzy, as she is fondly called by her friends, has allegedly taken her pregnancy to three different men, none of whom has accepted responsibility for the unborn baby.
Digs done by First Weekly Magazine showed that Liz Da Silva first went to MC Oluomo, who allegedly slept with her on the night of Oshodi Day, which held in December 2012, but MC Oluomo reportedly denied responsibility for the pregnancy.
Rumour-mongers told First Weekly that shortly after this, Liz turned to one Akeem, who shuttles between Nigeria and the UK, who she dated while she was shooting her movie, which she premiered in October 2012 at White House, Ikeja, Lagos, but that he also rejected the pregnancy.
>
Not done yet, the actress reportedly turned to one Khalid Soleye, who she met at Shoprite, Ikeja, Lagos in October 2012. Khalid, as we were told by the tale-bearers, works in an oil company.
We were further told that this rich guy stays in Warri, Delta State, but visits Lagos regularly. The gossips, who claimed to be in the know, also told First Weekly that in late 2012, after they started rubbing bodies together, Liz allegedly told Khalid that he should stop using condoms on her whenever they had any 'match' to play at the 'stadium'.
Khalid was said to have obliged the lady. But in February 2013, when the light-skinned actress allegedly informed Khalid of the pregnancy, he was said to have told her that he would only accept responsibility if a DNA test confirms that he is the father of the baby.
The industry tale-bearers also said that Liz was in the early stage of the pregnancy as at October 2012. We heard that even as at December 2012, when she went out with MC Oluomo, she had already taken in, but this was known to only few people.
The rumour monger said Lizzy might put to bed in June, all things being equal.
Culled from First Weekly Magazine.jpg
>
Nollywoodgists.com
Click the link below to go to...
Why I prefer dating white guys to Nigerian men – Cynthia Agholor
Jim Iyke Should Speak The Truth On His Relationship With Nadia Buari
Actresses Monalisa Chinda with Lanre Nzeribe Spotted At The Turning Point Premier in Lagos [Pictures]
Michael Oluwatobi Adebowale Has Been Identified As The Second Woolwich Suspect
What Is Wrong With This Picture?( Eniola Badmus's Sexy Photo at The Pool)
All you need to know about Wizkid's baby mama, Shola [Pictures]
E-X-C-L-U-S-I-V-E: Goodluck Jonathan Will Remain As President As Revealed To Me-Rami Kivisalo Prophesied [MUST READ]
"I have two daughters who are unemployed" – Nasir el-Rufai .jpg" /> © 2013 Nollywoodgists.com
Click the link below to go to...
Why I prefer dating white guys to Nigerian men – Cynthia Agholor
Jim Iyke Should Speak The Truth On His Relationship With Nadia Buari
Actresses Monalisa Chinda with Lanre Nzeribe Spotted At The Turning Point Premier in Lagos [Pictures]
Michael Oluwatobi Adebowale Has Been Identified As The Second Woolwich Suspect
What Is Wrong With This Picture?( Eniola Badmus's Sexy Photo at The Pool)
All you need to know about Wizkid's baby mama, Shola [Pictures]
E-X-C-L-U-S-I-V-E: Goodluck Jonathan Will Remain As President As Revealed To Me-Rami Kivisalo Prophesied [MUST READ]
"I have two daughters who are unemployed" – Nasir el-Rufai .jpg