Shock Allegiance Switch: Saka Keeps Mum On Controversial N20m Deal With MTN [VIDEO]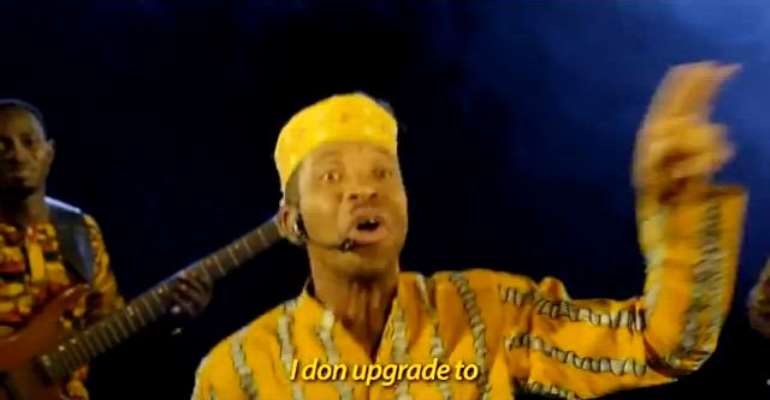 Many Nigerians were surprised last week to learn about the switch of popular comic actor, Hafiz Oyetoro better known as Saka, as an advert model of Etisalat mobile network to one of its biggest rivals, MTN.
Saka had been popular as a model with Etisalat, especially with the series of adverts he did for them. So, it was surprising for the people to see the actor-cum-lecturer pitching his tent with another network.

His comic delivery of the adverts campaigns for Etisala had endeared him into the hearts of the people with his unique way of delivering his messages on television screen and radio. Saka, who happens to be one of the best comic actors in Nollywood, has won many awards in recent years.
A leading mobile service network, MTN engaged Saka through its agency, DDB to promote the new Mobile Number Portability (MNP) system recently launched by the NCC.
MTN employed the services of Saka to achieve its campaign of attracting customers, a move that has been described as a coup for Etisalat, which had been using Saka as its brand ambassador for about two years.
When Nollywoodgists.com contacted Saka on the development, Saka declined to speak on the 'controversial' deal with MTN.
"I just want to get your view about your recent deal with MTN, we learnt that you left Etisalat because MTN offered you a fairer deal, please confirm or deny sir," Nollywoodgists.com asked Saka. "My brother (laughs), please, I don't want to talk on the issue for now," Saka responded.
When asked if he is happy about the new development, Saka said, "my brother, you just want to make me talk (laughs again), no comment."
Meanwhile, Nollywoodgists.com reliably gathered that MTN parted with about N20 million to woo Saka to its side. A source in the know said this was far from what Saka was getting from Etisalat as brand ambassador for the network for two years.
"Saka wasn't really a brand ambassador for Etisalat, he was only paid for any advert he did for them. Most of the time, he got a one-off pay for an advert campaign. He wasn't contracted as a brand ambassador for the network, unlike the deal he reportedly signed for MTN, which is worth N20 million," the source divulged to Nollywoodgists.com last week.
Click the link below to go to...
BREAKING: Comic Actor, Saka, Romances MTN; Dumps Etisalat
A New Car for an Amazing Fan: Busola Ayeni, gets new car on Ellen Degeneres Show [Video]
Chika Ike Flies Dad To India For Life Threatening Surgery
'She's not on my level' -Stephanie Okereke's ex-hubby speaks