"I have never been a full glam sexy diva" – Eva Alordiah on edgy style, her darker side, feeling too sexy and her fun Studio 29 shoot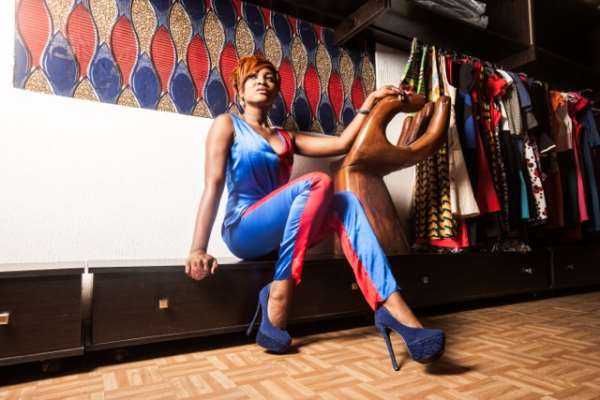 Ahead of its 14 April launch opening its doors, Studio 29 had a fun-­‐ filled shoot at its Opebi boutique with nonen other than the delightful Nigerian rapper Eva Alordiah modelling just a few of the looks available to purchase at the first concession boutique by Africa Fashion Week London (AFWL), the biggest African fashion extravaganza outside of Africa creating a platform for established and emerging African and African inspired designers.
In an exclusive shoot by the Studio 29 creative team, Eva Alordiah looked every inch a style diva in limited edition pieces from AsakeOge and Yutees, just two of the labels available at Studio 29.
Here she talks to us about music, style and what went down at Studio 29 to bring us these fun, flirty images.
How did you get involved with the Studio 29 shoot?
Eva: Oh, one of the designers, Asake Oge is a real good friend. She told me about it and I thought, why not? You know, I love to take photos, anything that has me dressing up and posing for the camera gets me excited. Couldn't pass it up. It really was a fun shoot, I'm glad I did it.
So which looks were your favourites and why?
Eva: I think the red & blue jumpsuit, and the Yutees dress. I think I felt too sexy in the red dress; I am really not used to feeling that super sexy and having clothes feeling all snug up around my tiny curves. The blue jumpsuit fit perfectly. Plus I looked great in the photos, I think.
You most certainly did -­ sexy in a cheeky way! But beyond this shoot, how would you describe your style?
Eva: I am a very spontaneous person when it comes to fashion and style. My style really is edgy. I'm a dark person, or should I say, I am very connected to my dark sides. Let's just say my favourite place to shop ever has been Camden Town! That pretty much summarises my style.I love black, leather, spikes; more black, more spikes, boots. I am not exactly a girly girl. When I am, I feel too sexy and I don't consider myself sexy, so it's all weird for me. I am edgy. That is all. (laughing)
We can definitely imagine you shopping in Camden, stocking up on boots and spikes. How does your edgy style govern your red carpet decisions?
Eva: Oh! For the red carpet I sometimes get help from my stylists. Other times I style myself. I don't think I have ever been a full glam sexy diva. There's always a bit to funk me up to edge. Might be my hair. Anything. I don't exactly restrict myself and think, 'Oh I couldn't ever wear that', well not until I have tried. And if I do try and I don't look like atutupoyoyo, then I'm good!
Any favourite Nigerian stylists and fashion designers you can name?
Eva: Let's see. Okay, I have worked with some very talented stylists over time. There's Tosin, who's one of my favourites, and for a guy, he comes correct. I have worked with Ebun Aboderin, Yolanda for Rani, who are all sweet darlings to work with.
As for designers, there's just a huge list to choose from. I absolutely adore Ejiro Amos Tafiri. She has a way with defining the structure of a woman, and me wey nor kukuma get bootylicious sontin, her pieces always seem to work right. There's also Ugonna of House of Nwocha who really pays attention to detail. And then I have an April by Kunbi piece which I really love, but I haven't had an opportunity of working with her directly. Oh and there's Lady Stylista Couture! So many talented designers, I could go on and on…
What do you think of the rise of African fashion?
Eva: Its absolutely brilliant, just really amazing to watch, you know? I remember when we all wanted to dress western. Now it seems like if you do not have an African fashion piece in your ensemble, then you are not complete. That's just crazy. Plus, we global now. Good stuff!
Finally what to expect from Eva in the near future?
Eva: Oh! A whole lot! I'm currently working on music non-­‐stop and there's a line of videos to go on location for which I cannot wait. There's no pressure really. I just hope I have God's grace enough to do what I want to.
The fans have been very supportive. I'm super grateful to have that.
Located at 29 Opebi road, Ikeja, Studio 29 is the first of AFWL boutiques, with two more branches opening their doors to fashionistas later this year in Lekki, Lagos and Westfield Shopping Centre, London respectively. Built on the Africa Fashion Week London ethos of providing both emerging and established designers out of and inspired by Africa a viable platform for commerce, Studio 29 aims to be a designer's hub stocking labels from around the world.
With Adebayo Jones, AsakeOge, Yutees, House of Farrah and Violet Couture already on board and more designers signing up daily, the boutique caters to the everyday needs for the modern fashionista. Studio 29 will also be open for event bookings, fashion tea parties and product press launches.
The official opening is set for Sunday 14th April with press, media and celebrities and general public invited. To get an invite to the exclusive opening simply send an email to [email protected]
Credits:
Photography: Hakeem Salaam
Styling: Maryanne Alabi and Asake Ogoro
Make up: Eva Alordiah