WHO ROCKS: ZAINAB, SANDRA OR YVONNE NELSON?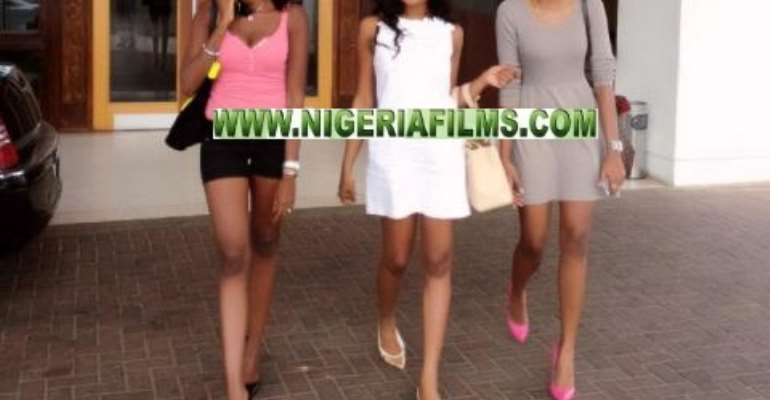 Same day after Zainab left Ghana on Wednesday, the 13th of February; she had a call for a photo shoot for one of Ghana's finest magazines. As a business oriented model, she returned two days after (Friday) for the photo shoots on Saturday, taking the advantage to shoot the pilot for her reality show.
The internal model has been spotted on different occasion hanging out with the tall teasers in the GH's entertainment industry. On Sunday morning, Zainab and her new friends, Sandra Ankobiah and Yvonne Nelson visited Golden Tulip's dinning for their breakfast. Their gorgeous appearance attracted so much attention that fans could not leave without having a picture of them. A lady called MC asked Zainab for the designer of her shows. "It's Casadei" she reveals. Her bag was from Furla and of course Yvonne's will always be LV.
Her height was more than encouraging as she walks with Sandra and Yvonne. The three rock in a flight front shoes as they expose the sexiness of their straight legs. The fashion 101 host was in flat shoes though but her sexy walk made an even. Many who saw them said they look good together but could not identify the one with the best swag.
Zainab became friends with Sandra during her movie shoot with Juliet Ibrahim, barely two weeks ago but with Yvonne, was just on the past Saturday. She's gone back to Sierra Leone, look at the picture and be your own judge on the most rock.