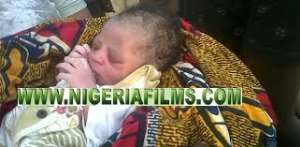 A woman, Mrs. Mutiat Aileru has delivered a baby girl in a tricycle in Abule-Egba area of Lagos. The woman delivered the baby at about 5p.m yesterday. The reporter was walking by the roadside near Awori bus stop when a woman suddenly ran out of the commercial tricycle, Keke Marwa and raised the alarm that her relative was delivering a baby inside the tricycle they had boarded.
She had called for urgent help from the owners of the shops by the road and women promptly removed the wrappers on them to shield the woman in labour. The women rushed to pick her up, some cleaning her, others cuddling and others yet bringing accessories to assist in the delivery.
Prophet Ariyo Ajibola of the Cherubim and Seraphim Church, Erimo in Ijaiye-Ojokoro, who drove the tricycle, said: "It was at Ikeja computer village that the two women that followed the mother approached me to beg me to assist them to carry a pregnant woman to a hospital in Abule Egba.
At first I was reluctant but when they began to plead, I obliged. Moreso, as a prophet, I had an inner conviction that there won't be any problem. And I took them in. But when we got past Agege, the pregnant woman began to moan in seriuos labour. She became hysterical and her people began to panic. But I was relaxed and praying silently for God's intervention, I was calming the women down. At a point, I took one-way to beat the gridlock on the road.
Then suddenly I heard a loud noise of a rushing liquid, when we just left Abule-Egba bus stop and the other women began to raise the alarm that a baby had just been delivered. And they began calling for help. As a man and a Christian, I just thank God for what has happened. It is just a miracle and I will give a special thanksgiving to God once I get to the church for an evening programme we have today. I asked them to pay N1000 but they offered N700 and I accepted but even if they don't pay me, I won't be unhappy."
Click the link below to go to...
"My ex-wife slapped me and I hit her back" –Nollywood Actor, Ibrahim Chatta
I'm Getting a Divorce – Actress Chika Ike, Opens Up about Trouble Marriage
Edlyne Records, LKT Lose Manager, Emmanuel Okoi, To Death
"Tattooing, Plastic Surgery Not Sin Before God" - Pastor Chris Okotie
Imo State Traditional Ruler Converts To Islam, Gives Reasons
Igbo Film Forum Holds Service Of Songs For Pete Eneh Today
Question of the Day!(Tunde Bakare) Do Pastor Collect bribes from Politician?
Kemi Omololu Olunloyo:FaceBook DramaQueen At It Again!