NEW MUSIC RELEASE: NO ONE LIKE YOU by WONDABOY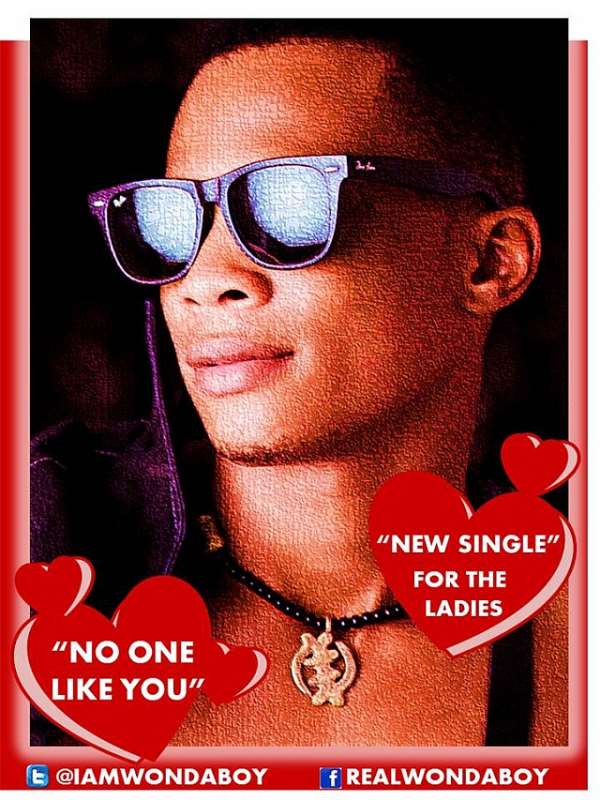 Last week, Wondaboy and producer Fiokee wowed listeners with the hit song Me & You. As promised, they are back just a week later with No One Like You, a hot new track dedicated to the ladies in honor of Valentine's Day.
In this second release, Wondaboy and Fiokee deliver a mid-tempo Afrobeat tune that has been infused with hints of dancehall swag. The combination results in No One Like You, a wonderfully seductive song that has been perfected for romancing and winding.
Wondaboy shines once again, on vocal delivery and songwriting skills with simple lyrics that are sang in pidgin and patois. Produced with such an infectious beat, ladies will be compelled to share an intimate dance with their Valentine dates.
With the songs No One Like You and Me & You, you have been provided the perfect selection to entertain that special woman in your life. Wondaboy's vocals and Fiokee's beats create the perfect combination for your listening pleasure. Be sure to enjoy, play and share them repeatedly so you can make every day feel just like Valentine's Day!
Stay tuned for some exciting club singles from Wondaboy and an upcoming video! You can follow him on Twitter (@iamwondaboy) or check him out on Facebook (realwondaboy.)
YOU TUBE: http://www.youtube.com/watch?v=xsoi2Ry3lXQ
HULKSHARE: http://www.hulkshare.com/krjxuni0yv40