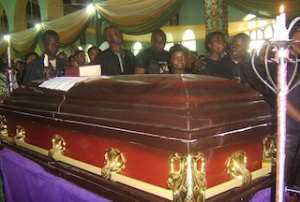 Pandemonium almost struck between the family of the late thespian, Bisi and the Canada based husband, Oluomotunde Ijaodola at the graveside when he was asked to perform the dust-to-dust rite and he vehemently refused.

He said amidst tears "She's not my wife…." People who were around were not surprised anyway, they said the dude has been acting funny ever since the lady died and the family couldn't fathom why he has been acting like that.

Before then, www.nollywoodgists.com gathered that, some family members of late Bisi Komolafe are not happy with her fiancée, Ijaodola. Some of them have accused him of killing her.
Shortly after the burial, a source said they have also told him to immediately vacate Bisi's apartment and leave all her properties including her Honda Pilot Jeep. They even said his fainting and wailing at Bisi's burial were all staged.
If you recall, Bisi was pregnant for Ijaodola before she got ill and the pregnancy had to be terminated to save her life

© 2013 Nollywoodgists.com
Click the link below to go to...
EXCLUSIVE PICTURES: IBADAN STOOD STILL FOR LATE ACTRESS BISI KOMOLAFE
How Nollywood actress, Bisi Komolafe, died in Ibadan •Her last moments with sister, aunt, close friends
Breaking News: Nollywood Actress, Bisi Komolafe Dies
PICTURES: THE UNTOLD STORY ABOUT THE MYSTERIOUS DEATH OF MOVIE STAR BISI KOMOLAFE
Family Releases Bisi Komolafe's Burial Plan To NigeriaFilms.Com
PHOTOS: Yoruba movie actors gather at Bisi Komolafe's funeral ceremony
ANTP United For Bisi Komolafe's Burial Today