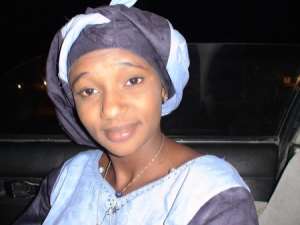 The make believe world of acting is gradually but steadily getting recognition and also taking its rightful place in the northern part of Nigeria. Called KANNYWOOD by practitioners, there are no doubts that actors and actresses living in the north are
beginning to get fame, satisfaction and fortune for movies they do.
SARATU GIDADO
In her early 40s, Saratu Gidado a.k.a. Daso, commands the largest fan followership presently in the hausa movie scene. She got her break with NAGARI about 5 years ago and that followed series of other hits like GIDAUNIYA, SANSANI, MASHI and FILAZAL.
FATI MOHAMMED
Rated as one of the few talented and best actresses the industry boasts of. She made an impact in ZARGE and other hits like SANGAYA, MUJADALA, ALAJABI and MARAINIYA, in 1999/2000. Got married to a star actor Sani Musa Maiska and did an HIV/AIDS awareness campaign advert for FHI in London, after which she
relocated with her husband, only to bounce back when her marriage collapsed. She is presently one of the highest paid actresses with her come back in movies
like ABADAN DAIMAN, TUTAR SO, etc.
HAUWA ALI DODO
She is the longest surviving actress in the hausa movie industry after becoming popular with the villain role she played in KI YARDA DA NI. She is gifted with spontanous acting skills and has to her credit three hits out of the highest selling movies in the hausa movie scene. These hits include KIYARDA DA NI, SANGAYA and DASKIN DA RIDI.
MANSURA ISA
Presently married to star actor Sani Musa Danja. Mansura never looked back after her break in GUDA. She is also a dedicated actress with lots of successful films like JARUMAI, SHARHI, HAULA, etc, to her her credit.
MARYAM USMAN
This elegant and gorgeous looking fulani damsel, got her major break in a movie called HIYANA. She did rise up to become one of the most sought after actress with movies like KAMBUN SO, HABAFIN SO, ASKA, etc. She was involved in a pornography scandal close to her wedding period. Presently married, she occupies the position of the most popular hausa actress ever, with her posters/stickers in almost every bus or taxi in the streets of the northern states.
SALMA MOHAMMED
A diploma holder in Mass Communication. She first featured in KILU TA JA BAU and quit the movie industry for a while, only to bounce back with a spate of hit films like TUBALI, KAMALA, etc. She is one actress that always disappears, only to reappear and still retains her position.
FATI BAFFA FAGGE
Started her acting career with a minor role in a film called MASHI. She went on to prove her talents and competence interpreting major roles in hit movies like TUBALI, SUNDUKI, KAMALA and HARABA.
KUBRA DHALKO
The undergraduate from Bayero university Kano came to study but Kannywood came calling and she embraced it with open arms. She got a major break in WAFATI but stardom came after the super hit film FATI. She has a large number of fans due to her successful films like MADA, MAYA, etc.
RUKAYYA UMAR
One of the sexiest and fashionable ladies the hausa movie industry has ever produced. She has done successful movies like DAWAYYA, KHUSUFI, GIDAUNIYA, SARAUNIYAR KYAU and a host of others. Presently combining acting with running an international business of travelling to Dubai and China to buy goods.
ZAINAB IDRIS
She first acted in the movie KALLABI as Binta Yar Baba. She has also exhibited her acting prowess in movies like GUDA, SUAL, GWAMNATI, etc. She is vibrant, witty and hot each time she faces the camera and that got her some adverts with former Vmobile, as their ambassador. She is presently anchoring an MTN
sponsored hausa version of WHO WANTS TO BE A MILLIONAIRE.
Emmanuel Gabari
Reporting for http://www.nollywoodgists.com