I FEEL GREAT CELEBRATING 12 YEARS OF MARRIAGE-OMONI OBOLI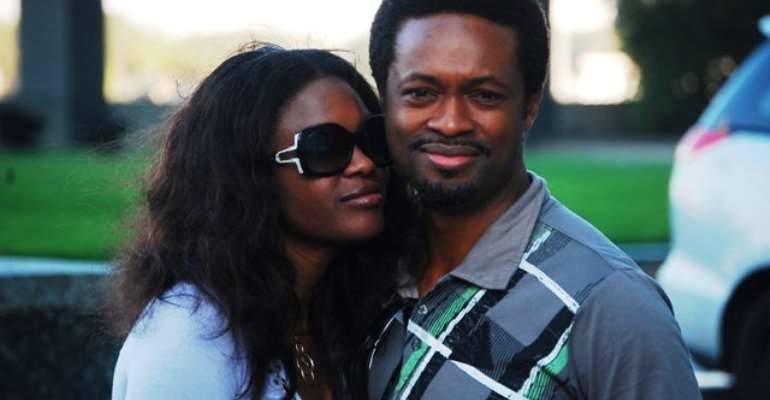 Omoli Oboli is one actress that is different in all ramifications. Beauty, she has it, brain she is well-blessed and her personality too is amiable and worth emulating. She remains one of the few Nollywood actresses today whose marriages are intact. Recently, she tweeted that she's thanking God for blessing her with such a man as husband. Nnamdi, her husband, soft-spoken, handsome and rich has not only contributed to the growth of the marriage but has well kept it from collapse by simply loving his wife.

As you are reading this, the happy couple are already on their way to Holy Land, Israel where they are expected to celebrate their 12th year weeding anniversary.
The thrilled mother and ambassador of the beauty care brand, Venus said, ''I feel great celebrating 12 years of marriage. It's amazing but it seems just like yesterday that we got married. It doesn't feel like 12 years has come and gone. I am so thankful to God for 12 beautiful years. I have been happy, fulfilled and above all, there's so much love in my home. My husband and I are best friends and we put Jesus in the mix. He's with us in the marriage and a 3 fold cord cannot be easily broken! We don't keep malice with each other, no matter what; we always try to sort out our differences even if we have to agree to disagree, that's the secret.''

Commenting on Nollywood marriages that are always cracking every now and then ''It really can't be that hard to find and keep a relationship. It's all about finding someone that is compatible with you. Find someone who completes you, not someone that competes with you. Marriage is a partnership and it's in everyone's best interest if it's a partnership that works. My weaknesses should be areas of strength for him and vice versa,'' she said.
>
Click the link below to go to...
DON'T CALL ME BY SUCH NAMES------ACTOR NONSO DIOBI WARNS LOVER
KELVIN IKEDUBA BEGS FOR MONEY AT PARTIES
Lateness: Socialite Orders Mopol To Beat Adewale Ayuba Blue Black
KAS ABANDONS TONTO DIKEH'S SONG, PROMOTES KAS WATER
Toyin Aimakhu's Lover Speaks: Our Relationship Is Heavenly Ordained, I Am Blindly In Love
Omotola Honoured BEFFTA Film Icon
Is Yvonne Nelson bleaching? [PHOTOS]