EXCLUSIVE: How Monalisa Chinda's Cousin, Mr Kool Allegedly Ruined Her Marriage**Ordered Ex-Hubby To Return Car To Monalisa After Break-Up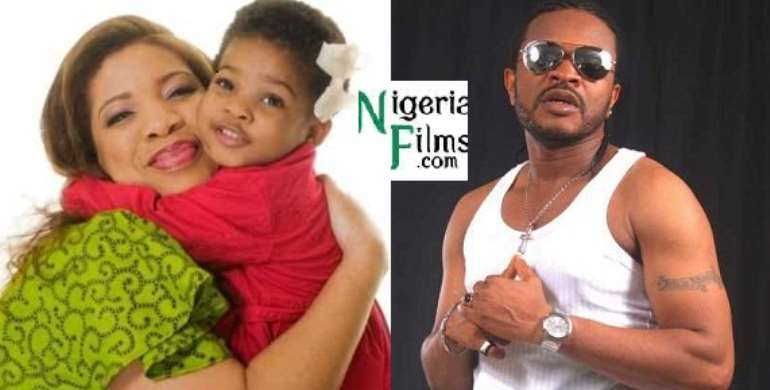 Though it is over three years the marriage of Nollywood actress, Monalisa Chinda crashed, but not many may know how and why the marriage may have hit the rock. What Monalisa has reportedly made the public to believe about her failed marriage was that she was a victim of domestic abuse or violence in the hands of her ex-husband, Segun Dejo Richards, who is a talented media person.
According to what a family source close to Monalisa divulged to Nollywoodgists.com, Nigerian RnB music artiste, Mr Kool, who we learnt is a cousin to Monalisa, was alleged to have been the brain behind their troubled marriage. The source told us that Mr Kool was never in the good books of Dejo for reason only best known to him (Mr Kool).
We were told by this source that Mr Kool was allegedly in the habit of telling his 'sister' (Monalisa) to walk out of her marriage with Dejo. The source said that Mr Kool may have put up this attitude to Dejo because he (Mr Kool) sees Dejo has a man depending more on his wife rather than doing otherwise.
When Monalisa was named a telecoms brand ambassador, we were told that Monalisa changed her attitude to her ex-hubby drastically. Even after their break-up, our source told us that Mr Kool reportedly called Dejo to return the car that was in his possession, which reportedly belonged to his wife, to her.
As a way to avoid insults and embarrassment in future, we were told that Dejo had no choice than to return the car to Monalisa.
Dejo has now remarried. His marriage to Monalisa produced a daughter named Tamar.
When Nollywoodgists.com contacted Monalisa to confirm this story from her, she shouted at us and asked why we are doing a 2009 story in 2012. She then rained abuses on us and hanged up the phone.
>
Segun Dejo-Richards with new wife on wedding day
Click the link below to go to...
BREAKING NEWS: MONALISA CHINDA ADMITS........MY MARRIAGE HAS CRASHED
The Rivalry Between Genevieve Nnaji, Stella Damasus Revealed!
'Genevieve Nnaji Caught Smoking Cigarette
Omotola's Hubby, Capt. Matthew Sacked From Air Nigeria
You're A Disgrace To Humanity--Angry Fans Tell Charly Boy Over Alter Ego 'Linda' Pictures
Ghanaian Actress, Beverly Afaglo Welcomes First Child With Praye
Osaze Odemwingie Expects Baby From Wife, Sarah Michael
Ex-Lovers; Timaya, Empress Njamah Reunite 3 Years After Bitter Break-Up?
Funke Akindele Comperes Tinubu's Nephew's Wedding
We'll Like To Marry Twins-Aneke Twins