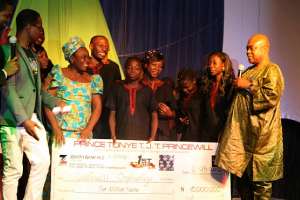 The Prince, it may interest you to know that there are handfuls or many fans of yours who have consistently followed, monitored and read the humanitarian works that you have been offering to women, youths (undergraduates and graduates), the media, the less privilege etc. which to some should have accorded you a place, by way of immortalizing you while still alive. This is yet to be done by God knows who.
As my role-model, I am not unaware of your charitable works. Your donation of bus to the National Association of Ijaw Female Students, donation of computer equipment to media organization such as the Tide Newspapers, set of computers and undisclosed cash to the Rivers State Chapter of NUJ, sponsorship of Mr Valentine Ohu in Broadcast Journalism, Miss Crystabel Goddy in Acting, Mr Telema Senibo in 3D Graphics, Miss Mercy Akudo also in Acting and Mr Stanley Kotey in 3D Graphics to the Del-York Film Academy are no longer news but have already been archived for posterity.
Besides these, the reading public are in the known of the various roles you played in creating awareness for the melancholic plight of the less privileged in our society. This can be seen in your sponsorship of NNENDA, a Nigerian home video that highlited the plight of abandoned children and not too long ago, you overwhelmingly endeared yourself particularly to me when once again you identified in no mean measure with the sponsorship of "Melody Shelters Singing Talent Show" wherein the final events according to one Nwaorgu Faustinus saw Godswill Orphanage of Kogi State clinching the coveted trophy and the Championship Prize of N10M while the Runners-up, the Lifetime Orphanage of Rivers State got the Prize of N5M. Rachael Homes, Abuja came in third carting home the N3Mprize.Five Hundred Thousand each was given to the other remaining five Homes as co-champions.
Your contribution in your father's scholarship scheme is not only resounding but also unparalleled because it has given so many indigent youths rare privilege to pursue their educational careers in the higher. I praise God for bringing forth your type of person into this world to use what nature has bestowed on you to bless others.
As pray for God to continue bless you, I urge you to extend your arms giving to other orphanage homes, youths, widows, etc. that have not benefited from your bigheartedness in your subsequent arts of charity.

In my quiet times, I ponder specifically over the many online media sites, apart from the social media sites, newspapers and magazines that have been in the forefront in publicizing your activities both at home and abroad and how you manage to foot their bill. The fact is whoever that is behind your promotion in the media are doing great job and need to be appreciated.
As I work towards borrowing a leaf from your charitable work, I encourage other well-meaning individuals to emulate your philanthropic gestures so that more and more people who would have become despondent due to the ups and downs of life will see the brighter side of tomorrow.
Ride on the "Prince of Philanthropy".

Shola Olatunde wrote in via [email protected]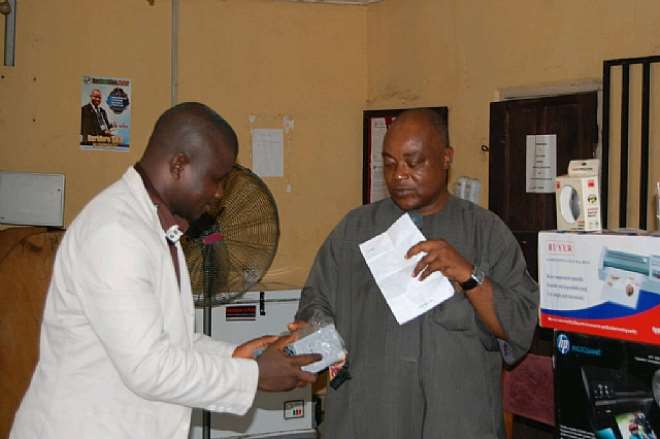 THE REP. OF PRINCE TONYE PRINCEWILL, HANDING OVER THE EQUIPMENT TO THE PRESIDENT OF THE FEDERATED CORRESPONDENTS CHAPEL, NUJ, RIVERS STATE COUNCIL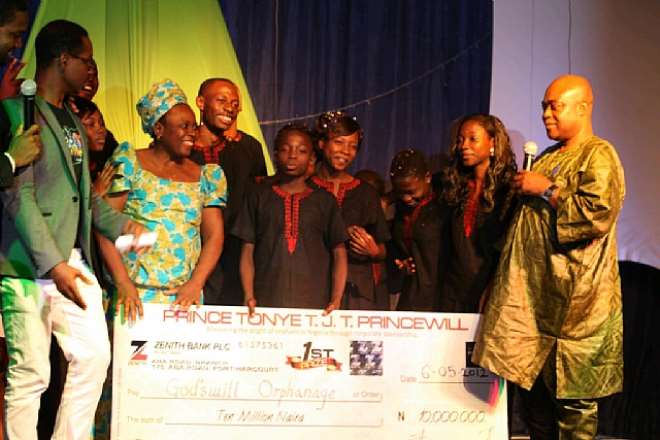 GODSWILL ORPHANAGE, KOGI STATE, WINNERS, WITH THEIR CHEQUE OF N10M