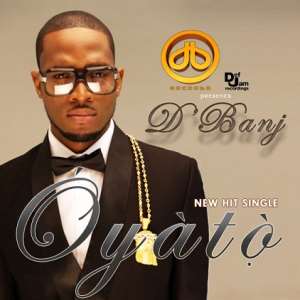 News have it that D'banj is on to next one. He is set to release his new single titled "Oyato" today 14th July.This is the first new single after the break up with Mo'hits records. D'banj, known as the Kokomaster has moved on to greater things by signing up with Kanye West's Good Music and becoming the Manager of DEF JAM Africa.

D'banj recently sign J.Sleek into DB Records with Davido also on the roaster!
On the hugely anticipated single, not only does the Kokomaster prove his dexterity on his favourite instrument, the harmonica, he also sublimally reiterates the message his fans have never been in doubt of: D'banj is the master of his craft, the leader of the pack and a Nigerian artist without borders.

The multi-award-winning entertainer was full of praise for his fans and noted that it would have been impossible for him to acheive his star status without their love and support."An artist without loyal supporters, is like a king without a crown, without them, there would be no D'banj, and ofcourse there would be no Oyato" he said.

"Oyato is my special dedication to my fans who have stood by me through it all. Thank you for being there for me.The only way I can truly repay them is to keep on making great music that they will always enjoy and be proud of" he added.
>
Click the link below to go to...
Entertainers' Death Scare: D'Banj Dragged To Church By Mum?
What P-Square Said About Their Mom
VIDEEO: Oyedepo Wins his "slap a winch" for Christ sake suit
Yvonne Nelson Wins Top Award In New York City
Celebrity Birthday: Rita Dominic Adds Another Year Today
[PICTURES] Ghanaian Actress Kafui Danku Raised $90,000 within One Month In Italy -For A customized Car