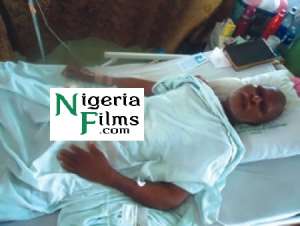 Nigeria's star footballer in the 70s and 80s, Sam Ojebode, is dead.
Ojebode died on Wednesday morning at the University Teaching Hospital, Ibadan, Oyo State.
He died of cancer of the lung.
He had been bedridden for a while.
The Oyo State Commissioner for Sports, Dapo Lam Adesina, on Tuesday paid him a visit at the hospital.
Ojebode was part of the team of the Shooting Stars Football Club that won, for the first time for Nigeria, the prestigeous African Cup Winners Cup in 1976.
It was Nigeria's first continental trophy.
He was the captain of the team between 1974 and 1980.
His contemporaries then included the Okala brothers.
He was also a member of the then Green eagles, now Super Eagles, playing in the left full back position.
On retirement from active football, Ojebode coached Shooting Stars FC, now Shooting Stars Sports Club, and also served as the Chairman of the team's Board
>
Click the link below to go to...
SHOCKER!!! Rev. Chris Okotie's Love Child Expose? Woman Claims 3 Abortions For Him
Fact about my break up with Chris Okotie--Stephanie Henshaw
Marriage Break-Up!! Insider Alleges, "Stephanie Dumped Rev. Okotie Because He Can't Impregnate Her!" …"It's A Lie," -Church Member
Okotie's Crashed Marriage: Celebrities React
I'd Get Married Again In December-Pastor Kris Okotie
SHOCKER: Pastor Chris Okotie Dumps 2nd Wife
Church Members Barred From Discussing Okotie's Marriage
Failed Marriages Fallout: Christians Blast Pastor Okotie.jpg