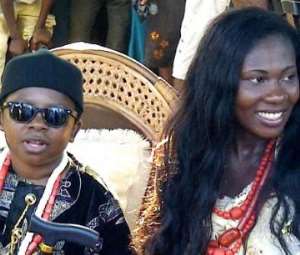 Contrary to speculations of plans to drag Kas-Vid Ventures to court for illegally selling the video coverage of his traditional and white wedding ceremonies, star actor Chinedu Ikedieze,popularly known as Aki has said he is willing to continue discussions with the marketer.
In a recent chat, the petite thespian gave a vivid narration of how he came in contact with the video and how some outfits have taken advantage of the massive publicity of his marriage to his heartthrob Nneoma to make money without any recourse to decorum or even pay him royalty.
Aki said, many business minded people seem to have seen an opportunity to use my marriage ceremony to make money. If you move around the country, from Lagos to Port-Harcourt, you can see the massive sales of my wedding pictures.
Many magazines published details of the marriage ceremonies. Then this video.
Actually a friend of mine brought the video to me. It was then I decided to call the marketer of the video.
The people just went ahead to sell this stuff without getting any permission or even consider paying any royalty.So,it is now a common thing everywhere you go.
Ikedieze also explained why he has not stopped anyone from selling his wedding video and pictures.
According to him, I feel it has to do with what they feel is of general interest to the public. I don't think I should stop anybody from publishing my wedding pictures or even the video. If you remember, this was how Mercy Johnson's marriage ceremony was sold to public without her knowledge, then the burial of Odumegwu Ojukwu without his family's permission.
So, I am not bothered about it. I now have regular communication with the marketer. I called him this morning, so we are on the verge of sorting out things, in terms of compensation. But I won't force him to stop doing it. If people said I should arrest him, then I have to arrest others who also sold my wedding pictures without my permission.
Advertisement
I don't see any reason for that.Morever, he is cooperating with me and it is comforting to know that he is interested in knowing how I feel.
click the link below to go to...
CHINEDU IKEDIEZE(AKI) BECOME FIRST NOLLYWOOD ACTOR TO SELL HIS WEDDING VIDEO.