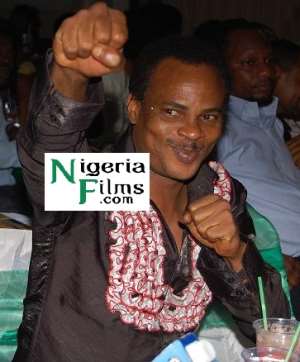 Nollywood actor,director and producer Fred Amata has finally signed the N5 million deal with Globeceleb Entertainment ,organizers of The Next Soap Star Reality TV Show.
The light skin filmmaker sealed the deal on Saturday,March 31,2012,and became one of Nollywood actors who will anchor the show,teach all the contestants rudiments of film making and decide who the overall winner will be.
Mr . Amata came into the deal after the withdrawal of top actor Ramsey Nuoah.
It could be recalled at this point that Ramsey Nuoah was the very first actor who was contracted by Globeceleb to handle the Reality Show.
However,he dumped the project half way alleging that the entertainment company failed to keep their side of the bargain,as he is not ready to get involved in anything that will tarnish his image at the end.
Meanwhile,Mr Amata disclosed that he will inject his professionalism into the work to ensure that like any other movie Reality TV Show,The Next Soap Star will produce an actor that Nollywood and Nigeria as a whole will be grateful to have.
The Next Soap Star is an actor's development program,meant to groom fresh talents from the streets to become good actors to face any kind of movie role in Nollywood.
RAMSEY NUOAH.jpg