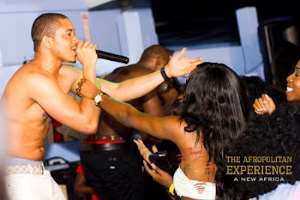 Just as the whole world was celebrating the Resurrection our Lord Jesus, the music duo known to all as Bracket were throwing the state of Houston, Texas into a fun frenzy as they performed to load ovation at a show that was marketed by Emaginethat Entertainment at the their All African Night.
The event venue was the Jet Blue Lounge, which is located at 11320, Beechnut street, Houston, Texas, 77072. The Duo who performed to a sold out crowd at the venue, were said to have arrived in Houston, Texas about 3 days before the show, which happened on April 7, 2012.
We heard the Yori Yori exponent had a blast at the show as they gave very good account of themselves, dropping one hit jam after the other, though they started performing very late at about 3AM, we heard many of their fans had been waiting patiently for them to perform from 10PM. The ladies who seem to have being far more than the guys were said to have gone crazy with excitement as the 2 cool guys performed.
Bracket; seem to have come into their own very well now. Unlike at the beginning when they used to open shows for the twin duo of P-Square. No wonder we hear, they are just buying 'motor machines' like they are toys.
Congratulations boys!!!!!!!!!!!!.