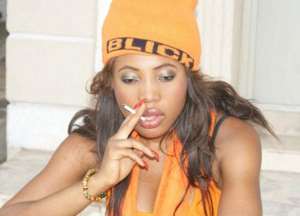 According to news from grapevine, movie star, Chinwe Isaac has quit acting and relocated to Owerri,the Imo State capital.
That is not all,Chinwe Isaac is about to tie the nuptials with fringe,Super Eagles striker,Paul Obiefule.
Her wedding to foreign based Paul,we learnt will hold sometimes this year and to keep a happy home,the actress has decided to stop acting.
In the same vein.She had to change her phone number,go off Blackberry and of course relocate to Owerri where her footballer boyfriend's business is.
She confirmed her wedding plans and her reason for quitting I don't intend to give full details right now but since you know about it,yes I am getting married to the man who has made me known happiness than ever in my life.
I live in Owerri now and I have opened a boutique and will soon invite you people for my wedding.
You see marriage is a life time decision and it was hard to make up my mind.
Movies made me happy but he makes me happier.I have truly quit acting and I just want to focus on life as a married woman.I love my in-laws and they make me so so happy.
What else can someone want in life?He gives me everything life can bring and if quitting acting will bring us joy,why not.
Though it will take a while to let go of the acting thing but I am beginning to get over it.I have received over 20 offers but I have rejected all,but the last set of movies I shot before giving up are yet to be released and that will keep me in the game for a while.
I decided to change my line for several reasons.My old line was filled with different categories of human beings.
I need to avoid anything that will make me loose focus because actresses are believed not to stay in their marriages.So I want to plan my home well and one of the best things to do is change my line but still get in touch with people who will add value to my life .
The earlier the better.I love my man and I don't want anything to spoil our love.I want to stay away from fake ass friends and anything that will make me disobey my husband.
I want to be the best of wife in the world.
Her fiance,Paul Obiefule .jpg