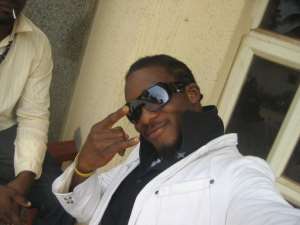 Talented actor Junior Pope Odonwodo is one of the movie acts making waves in the Eastern part of the country.
The popular actor narrowly escaped death on Monday,12th March after he had an encounter with some hoodlums on his way to a location.
It was gathered that the fast-rising actor was on his way to Enugu for a movie shoot when he was way laid by robbers along the Owerri-Port Harcourt Expressway but he was lucky enough as he took to hiding with some of the other lucky commuters who foresaw the operation and cleared off the road while they fled into the bush to hide from the hoodlums.
The criminals had a filled day robbing innocent passengers and motorists of their money and valuables,and causing heavy traffic along the Expressway while they shot sporadically in the air.
According to the actor,they remained in hiding until the operation ended but he also narrowly escaped being hit by a stray bulklet.
Junior Pope on set.jpg