Popular actresses looking down on young ones is a big challenge — Onyinye Oji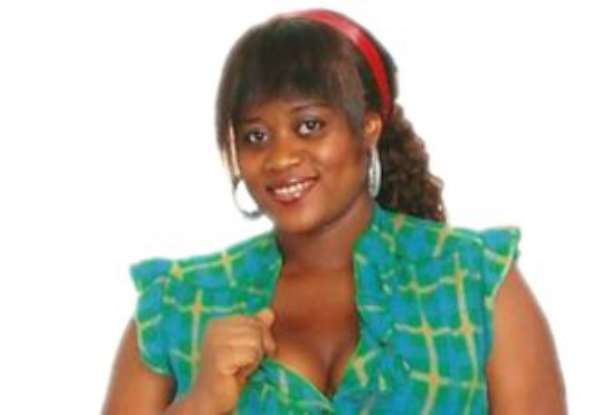 She has a determination to outdo the reigning actresses in Nollywood and a dream to set a mark. But having started out as a make-up artiste on set, she got an opportunity to get a small role and since then, she has being quietly climbing the Nollywood step to popularity. ONYINYE OJI will be described as living the final days of her rookie years in Nollywood. In this chat with AHAOMA KANU, she points out that there are still some challenges left for her to surmount.
YOU are one of Nollywood's actresses that are determined to outdo the Genevieve Nnaji's and Omotolas, do you think this should be a driving force for young actresses?
Yes, it should be a driving force for the young ones because, if these stars did not work hard and also were not determined, they wouldn't have been where they are today.
At what point in your life did Nollywood catch your fancy and when was that period in your life that you wanted to be part of what Nollywood is doing?
OK, it was when I did my first movie four sisters in 2007. I actually started as a makeup artiste in that movie. There was a space for someone to lay the role of Stella Damascus secretary and there was nobody to do that. So Stella insisted that I do that role because of how close we were on set. As I was still on that, I was called to do a menial role in Mac Collins Chidiebe's Suspicious Wealth. And that's it.
Did you go for any formal training in acting?
No I did not, but last year, I partook in the Niger Delta talent hunt and acting was my specialty, after which I was given a certificate.
How did you get into Nollywood?
Through a friend that was a makeup artist. I started with that before transiting into acting.
What films have you been part of as an actress?
Very few so far, Suspicious Wealth, Fruit of My Labour, Four Sisters, Bless my Marriage and, the latest being The Concubine which is yet to be aired because it's a soap.
We hear stories about sexual advances in Nollywood especially towards upcoming actresses; did you experience that in any degree?
No, I did not.
Many want the industry to be better than Hollywood but we hear disproving comments when an actress interprets an act like in being nude and all that; can you act nude for the sake of the profession r would you mind what the newspapers will say?
I cannot act nude for the sake of the profession and will not only mind what the paper will say, but my family too.
Which top actress do you admire?
Not just one but let me see: Stella Damascus, Genevieve, and Mercy Johnson. I love her more when she does comedy.
Hearing tales of divorces hitting Nollywood stars especially the actresses, does it discourage you?
No it does not. Not because one is an actress, she does not have an eye on her family, her husband of course with time it will hit the rocks, leading to divorce. but when you carve out time for your home and career, no one will be thinking of divorce, so it all depends on the woman.
Which producer are you looking to work with?
Chico Ejiro because he is a friend, Tchidi Chikere and Frank Rajah Arase of Ghana. I love their movies.
What is your dream in Nollywood?
My dream is to get to a certain pedigree and I can smile and say "I have arrived".
What will you say are the challenges in being an upcoming actress in Nollywood?
The sexual harassment and being looked down on by the familiar actresses.