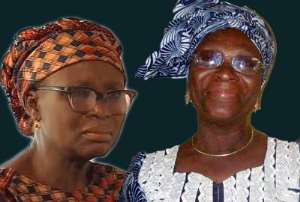 The name Zainab Bukky Ajayi does not only make waves in the Nigerian movie industry, it is also a household name. Mama, as she is fondly called especial in the industry, is indeed one of the leaders and pillars of the industry. Ajayi who, joined the industry in the '60s spoke with AJIBADE ALABI, on her journey to stardom. Excerpts:
What does it feel like to be an actress?
I will say that life as an actress is very interesting, because the society looks up to the industry to preach morality to the people through drama. I have been on the job for some time now and it is good to see the industry excel.
Life as an actress gives me so much delight. I find it interesting and I am still interested in it. You see, life is what you make out of it and so is this industry.
You have not been appearing in too many films in recent time, why?
Nothing much, it is just that I have been slightly busy; I have been recording especially in the last quarter of 2011. I have been kept busy.
What motivated you into the movie industry?
Without mincing words, the cinema motivated or gave me an idea that I would one day become an actress. In those days, when I was younger my father used to take me to the cinema and when I see all those stars then; I would tell my father that one day I would become a big fish in the ocean of movie industry, but unfortunately he did not live to see me become what I promised him.
What was the experience like growing up without your parents at such a tender age?
I tell you it was a very tough situation for me. I missed both of my parents, especially my father whom I loved so much.
But life is what you make out of it. I did not need anybody to tell me that I needed to struggle, I knew that I had to struggle for anything I need in life and I am still struggling up till now.
I believed so much in working, so I worked hard. I can proudly say that for everything that I have in my life, I worked very hard for them. I did not have to wait for someone to do them for me. I worked hard for everything and I am grateful to God for where I am today.
Who then sponsored your education in the absence of your parents?
My grandparents, whom I never met, because they died a very long time ago, left some properties and shares and when I travelled in 1959 to England, I worked there. Initially, I worked in Pitman's College in England with the intention of becoming a secretary, but I knew that I was not cut out for that kind of job.
Advertisement
So I quit the job. I worked and I was going to school also because I believe so much in hard work. Imagine, as old as I am now, nobody cooks for me, I cook for myself and I love cooking till now.
In one of your interviews you said you like to fight as a child, what you explain why?
What is responsible for that is the fact that I grew up in the midst of boys so I always behave like a boy (tomboy), and would not hesitate to fight when need be; and if I was in a brawl with a boy my elder brother would come and rescue me if they are over- powering me, but if I was fighting with a girl he would leave me to satisfy myself.
Then, my father would call me 'omo bi o te ko ni gbo' meaning 'if I don't learn my lesson the hard way I would not relent from the act of fighting'; and whenever I was fighting, I didn't like people telling me to stop.
Were there notable fights that still ring in your memory?
There are too many fights; just too many to recount now.
At what point did you stop fighting?
I dropped it when I travelled to England. I was sober, because there was no one there to stand for me in case I misbehave and apart from that, the rigours of getting married, having children, going to work, keeping the home, going to school and what have you took it away from me.
Now that you are getting older, how do you cope with the rigours of locations and film making?
I make sure that I don't take two jobs at the same time. I must finish one first, and ensure that I rest for a day or two before commencing another. I want discipline on the job, and that is the reason I don't take two jobs at a time.
These days, the mode of dressing of actresses, especially up-coming ones is nothing to write home about, what's your take on this?
I will answer your question, with this adage that says: 'you can only drag a horse to the river but you cannot force it to drink water'. Our children are now known more than us.
Without mincing words, the world has changed far from what it used to be and if we now say they should do things the proper way, they will say we are old 'skool'. You will hear them say all sort of things to you like 'ejaa si' you are not in vogue and the rest of them.
They don't know that it is what is covered that has dignity. You don't have to flaunt it all because if you flaunt it all now, what will you cover when you are married? I will only appeal to them to do it with caution. There is nothing they are doing now that has not been done before!