2FACE IDIBIA OPENS UP ON WHY HE CHOSE TO MARRY ANNIE AND NOT PERO OR SUMBO + THE UNTOLD STORY OF ANNIE MACAULEY/2FACE ENGAGEMENT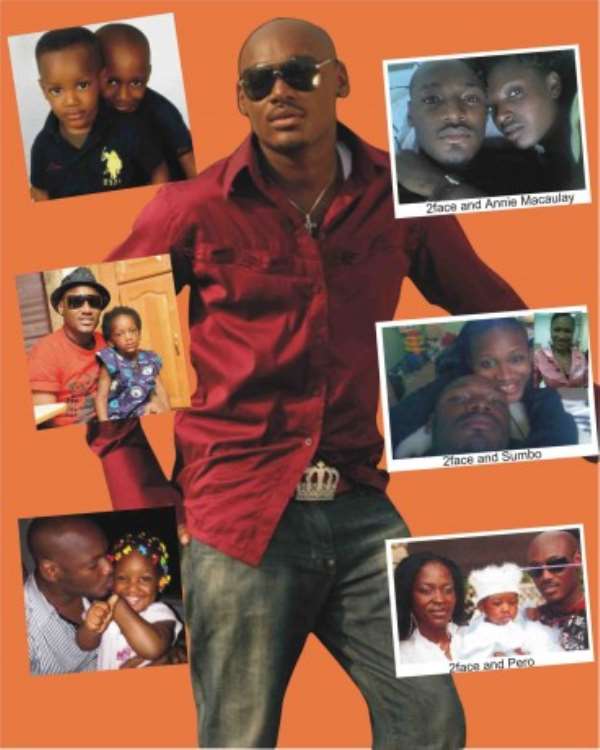 Two weeks after his shocking marriage proposal to his girlfriend and baby mama of 13 years,Innocent Ujah Idibia popularly known as 2face has finally opens up on why he chose to marry Annie Macauley, over and above Pero and Sumbo, who are mothers of his children.
I think it's about time, I have known Annie for over 12 years, some things just made me realize that this is my woman and I couldn't deny it any more. When are we getting married? Don't worry, I will keep you posted. Some people think I should just continue living like this and not get married? Well, everybody has a right to their own opinion. And what other people think doesn't concern me. You don't have any authority over what others think. So for me, if that's what they think, I'm sorry.
All my women are very respectable. I can't answer that question because I have already proposed to who I want to be with and I won't want to create any type of answer that will be odd. Of course, Annie and I are soulmates. We are mature people and I know that they understand my decision. Did I tell them about the decision? Of course, yes. Did they raise an issue? You know what; I don't want to answer the question, so, let's change the topic.
Asked, more kids from Tuface;he said Will I ever father another child from another woman? How do I answer this question? No, I am not going to answer that question. No, I did not say I won't have more kids. No, I didn't. Who knows? That's left in the hands of God.
BLOW BY BLOW ACCOUNT OF HOW 2FACE PROPOSED ANNIE MACAULAY
It appeared to be a movie script for the fast-rising Nollywood actress,Annie on Tuesday,February 14,2012.Coincidentally,it was Valentine,a day set aside for the celebration of love at the popular upscale JJ Okocha's Club 10, Lagos,when 2face and Annie stepped inside around 11pm.
An insider told us that Annie didn't know 2face had a plan until that night,adding that the whole arrangement was between 2face,Mary Ann Bassey,Annie's cousin and former ex-beauty queen,and one Ayeri,2face's best friend.
According to the plan,the source said, 2face was supposed to take Annie out on Valentine Day while Mary Ann Bassey and Ayeri was to make proper arrangement at the Club 10 and Prime Chinese Restaurant,where the engagement party was held.They were also to invite 2face and Annie's friends and family members,which they did perfectly,all without Annie's knowledge.
Some of the notable people at the club were P-Square,Kaffy,Tiwa Salvage,W4,Ruggedman,Annie's families and friends.
We learnt that Annie was surprised seeing some of the notable faces,especially her cousin,Mary Ann because she did not expect seeing her out so late that night.
Annie was busy discussing with her friends because she didn't understand why she's seeing almost all her people,including her own brothers sources revealed.
Speaking further,our source narrated what happened.She said At about 1am,the music was stopped and Innocent Idibia has a mic with him and started making his speech,saying he met a young lady 12 years ago and they've have been through a lot and he apologized for all the wrong he had done in the past.
By then,he was already walking towards her…and said he really loves her,nothing that he had just one question to ask her.Then,he went down on his knees and asked her calling her full names,Annie Uwana Macauley,will you marry me(him)? she narrated.
Our source,who was also at the club said 2face was so nervous that he thought Annie would say No.
Annie,however,didn't believe what happening,she cried all through before she finally said YES,YES,YES, she added.
We reliably gathered that 2face was so happy that he made a statement saying,he should have done this a long time ago.
According to our source, 2face was very happy,as he pulled Annie to his chest.He then gave her an engagement ring,took pictures and everybody started showering encomiums on them
The party ended at about 5:30am before moving to Prime Chinese Restaurant where they had the engagement party till about 9:00am on Wednesday,February 15,2012.