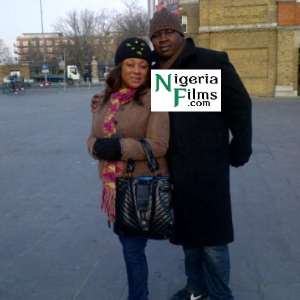 It is no longer news that popular Yoruba comedian actor, Babatunde Bernards a.k.a Baba Tee dumped bachelorhood last week when he married his London-based lover, Yetunde Oduwole.What is authoritative news about the latest couple is the untold story about their union.
News about their union filtered the air last week Thursday,when the light complexioned comedian changed his status on Blackberry Messenger that he has found love and has married the woman of his dream.
Baba Tee backed up his updates with intimate pictures of him and Yetunde cuddling,like high school kids falling in love for the first time.
Yetunde also changed her Facebook status from Single to Engaged declaring to whoever cares to know that she has finally been hooked.
Since the news of their marriage broke,the entire London community has been pondering over what the attraction could be,based on the fact that,Yetunde who was once married to Celebrity journalist,Babs Adegbenjo,has 2 kids and is about 10 years older than Baba Tee.
While everyone was still debating on how true the story is,Baba Tee and Yetunde made a surprise appearance on Friday night at the movie premiere of Lola Margaret's new movie Omo Oloro in London packaged by Adebank Entertainment.
The premiere which held at Enabling Centre East London had all the who is who in London social circuit in attendance with Fuji star Sefiu Alao on stage.
The moment the latest couple stepped into the venue,all eyes were on them and to everyone's surprise they were both wearing wedding rings to confirm their union.Holding hands and cuddling each other,Baba Tee didn't hesitate to tell everyone that he is now a married man and proudly introduced Yetunde to all his friends and colleagues as his wife.
An eye witness told us that; It was a big surprise to everyone when they stepped in together.Though,the gist that has been around is that they are dating but when we realized that they got married,we were more than surprise.When they came into the venue they were holding hands in an intimate way but that was not enough to define their closeness,until Baba Tee announced it to us that they are now married and are strongly in love.
Baba tee and Yetunde have known each other for about 3 months and the questions on everyone's lips is if it was love at first sight.
How they met?
They met in December 2011 when the comedian travelled to UK for the Afro Hollywood awards.Baba Tee had performed at the award and as usual stole the show.
The next day after the awards,Baba Tee and two other actors,Londoner and Tayo Adeleye were to check out of the hotel room and go stay with friends and family.Initially billed to stay in Tope Doherty's house,events turned around when Yetunde called him and asked him and his other colleagues to move into her house.Yetunde was said to have gotten Baba Tee's number from an actress friend in Nigeria.
Few days after Baba Tee and his colleagues moved in with Yetunde,their affection for each other grew stronger and since they couldn't resist one another,a relationship was established.
On his return to Nigeria,Baba Tee told his close friends that he has found love in London in an older woman and plans to marry her.
Many didn't believe him until Yetunde stormed Nigeria for the production of his comedy movie in Abeokuta 2 weeks after.
Yetunde flew in from London and lodged in a hotel in Abeokuta with him. Yetunde's visit was kept away from friends and family and soon as Baba Tee finished the production they returned to London together.
They have been spotted at different places and events in London and it is no longer a hidden thing.
Yetunde has been linked with several men including popular actor Aremu Afolayan whose family allegedly stood ground against the affair and nipped it in the bud.Aremu like Baba Tee is also over 10 years younger than Yetunde.
Another lover of Yetunde during her period in the "searching market" is the popular MC Oluomo and London based Juju musician Larry King.
Late last year,Yetunde was in the news in London social circles over her affairs with a top socialite whose wife decided to act fast and allegedly sent thugs after the beautiful Yetunde.
Responding to critics via his Blackberry update on Saturday Baba Tee said; this is my life I can choose to live it the way I like.
He also updated that Say what you like,my life is my life
click the link below to go to...
YORUBA MOVIE STAR BABA TEE GOES TO LONDON.
E-X-C-L-U-S-I-V-E: Yoruba Actor, Baba Tee Picks Older Lover, Yetunde Oduwole, As Wife --- Marries Secretly In London.