E-X-C-L-U-S-I-V-E: Sober Frank Rajah Pleads For Leniency On Alleged Fraud Case In Lagos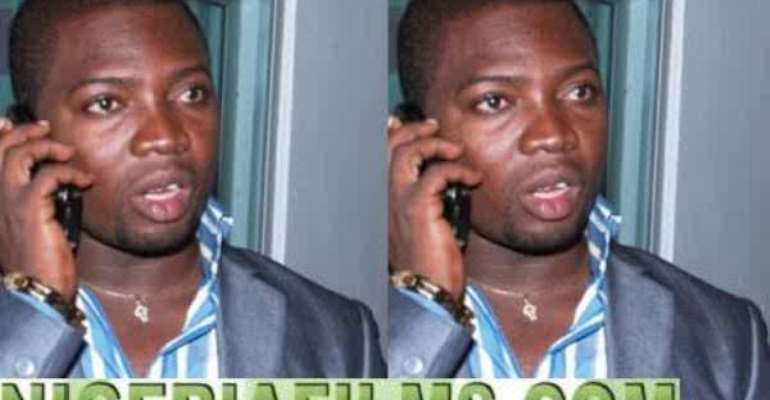 Just last week Thursday, February 2, 2012, Nollywoodgists.com exclusively broke the arrest of top Nigerian born but Ghana based movie director, Frank Rajah Arase in Lagos, Nigeria, over an alleged multi-naira fraudulent act on one Hakeem Obakoya.
Nollywoodgists.com can now exclusively report again that Frank Rajah has admitted to his offence and has called for settlement on the case with Hakeem Obakoya.
According to investigation made by Nollywoodgists.com, Frank made a plea for leniency on him from Hakeem on the condition to complete his(Hakeem's) movie on or before Saturday, March 31, 2012.
Further information gathered by Nollywoodgists.com revealed that Frank arrived Special Fraud Unit of the Nigeria Police in Ikoyi, Lagos on February 2, 2012 wearing a green T-Shirt on a pair of black pant trousers. We learnt that his mother had earlier bailed him at the police station a day before.
According to what we gathered, Frank was all through the day looking very sober and pleading with Hakeem to help him out with solving the case as brothers and friends they has earlier been.
After much pleas, we reliably confirmed that Hakeem agreed to soft pedal on the condition that Frank Rajah Arase hands over the master copy of his movie, Love and Crime to him on or before March 31, 2012.
Frank Rajah Arase was alleged to have defrauded Hakeem of 30,000 US Dollars. We learnt that the money was meant to complete a movie for Hakeem by Frank since August 2011 after he was paid the said money in June 2011.
© 2012 Nollywoodgists.com. All rights reserved. This material may not be published, broadcast, rewritten or redistributed without the express written consent of the publisher.