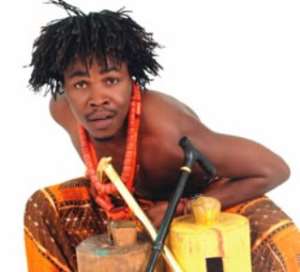 The marriage of Sunday Osakuni,popularly known as Stereo Man to his long term beau is troubled.
Information available to us revealed that the affliction rocking the union has reached such an height that the maker of hit album,Ekwe moved out of their matrimonial home.
Sources attribute this development to conducts of the talented musician.
He was alleged to have turned his attention to other women.
We gathered that he abandoned his wife and three children in a rented flat in C.B.N. Estate II, Satellite Town- Lagos state.
Sources claimed the Ekwe singer moved out his matrimonial home to be with one of his mistresses in another part of Festac Town.
Sources attribute a downtown of his fortune to the crisis that engulfed his marriage.
He is said to operate a Beer Parlour to make ends meet presently.