Top Actress Fathia Balogun Romances Ayo Adesanya's Ex-Husband,goriola Hassan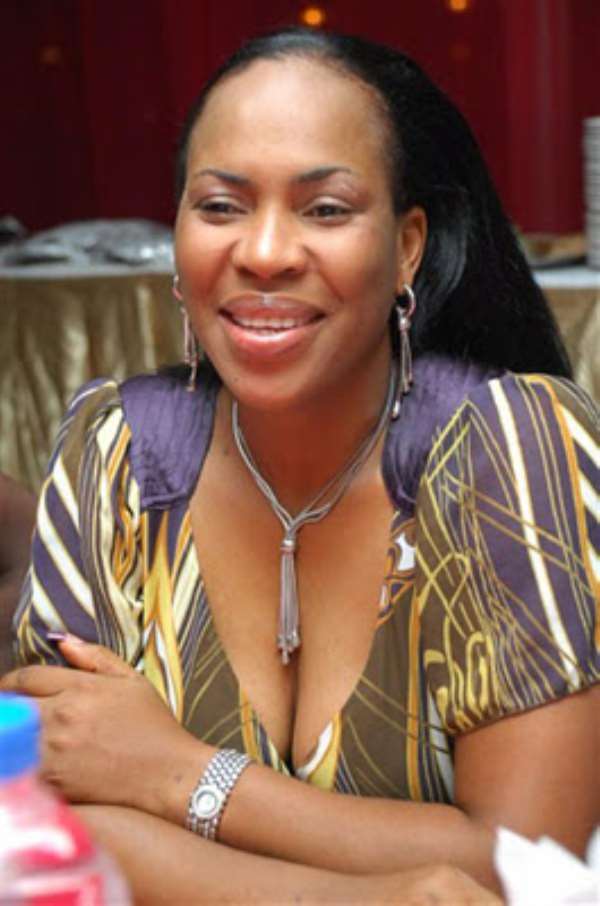 Before she recovers from one scandal or controversy, she is neck deep into another.
Star actress Fathia Balogun seems not to be bothered by her name being the headlines for all the wrong reasons.
The latest gist about her is that, she is currently in a sizzling romance with Goriola Hassan, ex-husband of fellow actress, Ayo Adesanya.
Tongues began to wag a few weeks ago when both of them stormed a show in Lagos GRA.It was on Wednesday,28th December,2011.
The event was the end-of-year show of lewd popular singer,St. Janet at Asake Afrocentric Pub,situated at 21,Joel Ogunaike Street,Ikeja GRA,Lagos.
Though the duo did not enter the exclusive hangout for big boys and babes together,Goriola drove his Honda Element car to the venue while Fathia strolled in less than 5 minutes later.Those who saw them at the event noticed how the 2 were into each other.
The lovebirds sat closely throughout the show and they left together.As if that was not enough,the duo were also cynosure of all eyes at the recent birthday party of star actress Mercy Aigbe on Sunday,1st January,2012 at La Veronique Hotel,Oregunwa Street,Oregun,Ikeja,Lagos.
The duo who initially sat at the VIP section of the hall where London-based juju singer,Sunny Melody was performing obviously had a wonderful time while the show lasted.This put a peg to insinuations that the duo were romantically linked.
Fathia drove Goriola's Honda Element car to the event with the number plate 'FB' an acronym for Fathia Balogun which she used on her Nissan Jeep that no one can explain why she refused to ride in it for about a year.
The duo have been reportedly sighted hugging,kissing and cuddling.
For the records,Fathia's marriage to Saheed Balogun broke up about 3 years ago and since then she has been romantically linked with several Yoruba movie actors and a prominent marketer.
Goriola's marriage to Ayo Adesanya packed up more than 2 years ago and since then he has not been linked with any actress or known babe.
click the link below to go to...
FATHIA BALOGUN, ALUWE'S SON, SUNKANMI'S ONE NIGHT STAND.
Fathia, Sindodo At War Over Oluomo.
I'M OLD ENOUGH TO GET MONEY ANYWHERE -FATHIA BALOGUN.
Bukky Wright & Fathia Balogun in Messy Romance with married men.
Corporate Picture's Boss Marriage Tears Apart Over Alleged Romance With Fathia Balogun.
Fathia Balogun Dates Motor Park Chief.
Fathia Balogun destroys lover's home.
Why Peju Ashaye & Fathia Balogun Don't Talk.
HOW FUNSO ADEOLU'S RUMOURED AFFAIR WITH FATHIA BALOGUN AFFECTED HIS CAREER.
Fathia Balogun and Toyin Aimakhu deny fighting over Rotimi Ajanaku.
Femi Adebayo Denies Romance With Fathia And 'Jennifa'.