I'm Not Thinking of Marriage- Tamara Eteimo, NMS 2011 Winner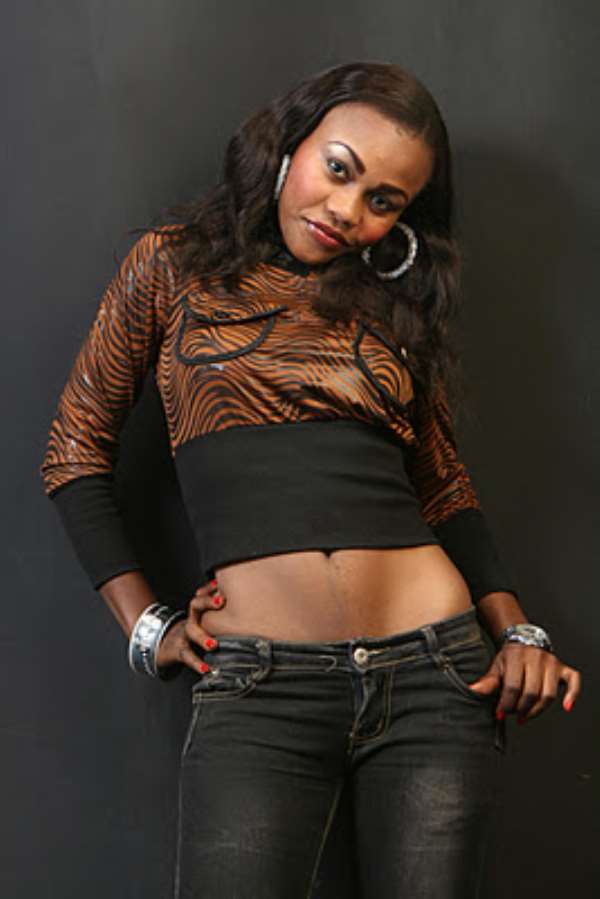 Tamara Eteimo hails from the Niger Delta region of Nigeria and after graduating as a Theatre Arts practitioner, the dazzling lady has decided to go into full time acting. She got into the popular reality TV show, Next Movie Star and emerged the winner of the 2011 edition.
As the winner of Next Movie Star 2011, how do you intend to give back to your community?
I would try as much as possible to work with my region, the Niger-Delta by trying to be an ambassador for those youths from my region, who has the talent but does not have the chance to pursue their dreams and aspiration like me.
One of the reasons some housemates strive to get into the Next Movie Star house is because they think it has become a platform to get into popular lifestyle reality TV show, Big Brother Africa and win, do you also have such plans?
No I don't because for me Big Brother Africa is not a talent reality TV show and I don't think it would give me the platform for what I love and want. I love acting and that is why I got into the Next Movie Star and all thanks to god, I won.
What would you say prepared you for this particular edition of your life?
Like I said, I love acting and studied Theatre Arts, so it's something that I have always wanted to be in front of the camera. The training and grooming that we got in the house has already prepared me and every other hosuemates for the whole process. Also I think been disciplined and my watchword throughout the show had helped me because I was able to live with everybody without hassles.
Have you done anything in the movie world before the Next Movie Star?
I've participated in a lot of stage acting and I've also worked on some projects. I worked on a job that isn't out yet and it's titled 'Exposed.' But aside that I've done stage works like 'Pepper Soup' and 'Woman of Calabar' by Elechi Amadi.
Beyond the talent and grooming, what would you say you have taken away with you from the Next Movie Star?
I've learnt a whole lot from the NMS and without mincing words, the producer is a very big role model to everybody including me. I've also learnt that hardwork, sacrifice, persistence and be more dedicated to whatever your passion is are some of what would make you achieve your dreams.
What would you say you love about the Next Movie Star?
I love everything about the Next Movie Star because I am one person who is not down with tribal sentiments and I learnt more on that in the house because when interacting with one of the housemates, she narrated what happened when she was about getting her form, how her sister discouraged her saying, they already know who the winner is and same with me, my sister and a friend told me to be careful and have it at the back of my mind that they might use tribal sentiment but I just didn't give a hoot and said I wanted to try my luck and I found out that it wasn't and is still not about tribe but simply your talent and what you have got in you that makes you a winner.
For some of the reality TV shows that we have, runners up come out well and achieve stardom faster and quicker than winners, how prepared are you to break that jinx?
When I was announced the winner, a lot of things went through my mind knowing fully well that this has just dropped a huge responsibility on my shoulders because I know of Tonto Dikeh, Annie Macaulay and Uti Nwachukwu who didn't win but turn out to be the most popular. I would want people to refer to me as a winner, who is making waves and I'm not going to rest on my oars but work extremely hard.
Who would you call the most challenging housemates and why?
Adetomiwa Kukoyi and that is because he's really good and also a graduate of Theatre Arts and I saw several similarities in us but we worked together, it wasn't like a competition for both of us, it was more like a team work.
How prepared are you to manage stardom?
Well, we have been trained and groomed for this. Secondly, I'm a very humble person who doesn't allow things get into her head and I know very sure I would be able to get through to it and aside that I also have the DIM behind my back to put me through when things go wrong. I think I would now talk less, listen more and appreciate all life. Though I'm not a proud person but I would maintain my easy going life and eager to learn.
Have you got a man in your life and what are your plans for marriage?
I would rather leave that personal and for now, I don't think I'm thinking of marriage.